Finnis Architects design a house extension clad in bluestone for a growing family in Melbourne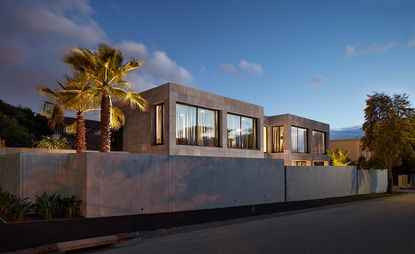 (Image credit: Tom Roe)
Just along the coast from Melbourne's St Kilda beach, Finnis Architects has designed a modernist house extension clad in bluestone for a growing family. The open-plan layout of the home with smooth transition into the garden space, and the clean, yet warm aesthetic of the integrated interior design, all contribute to helping contemporary family life to flow harmoniously.

The modern residence has a lightly gridded façade, defined by the stacked blocks of bluestone that conceal a concrete sub-structure beneath. Occupying a corner site, the home is wrapped by a garden and a slim lap pool stretches the length of one façade. Traces of bluestone were integrated into the paving, connecting the architecture to the outdoor areas.
The flow of space from exterior to interior is designed to be natural and seamless. Large columns frame sheaths of floor-to-ceiling glass facades, echoing the sturdiness of the bluestone blocks, while custom-steel pivot doors open up the connection between interior and exterior.

Inside, the open plan ground floor designed to promote shared family experiences features kitchen, living and dining spaces, with a soaring void above the dining table that channels light throughout the home and to the bedrooms above.
This light, airy communal zone is a contrast to the heavy exterior. Interior materials include powder coated steel and timber clad soffits, with lighter timber finishes used for the stair balustrade and ceiling battens.

Finnis Architects defines its style as 'uncluttered modernism' and the studio has a focus on residential design, from single family homes to multi-residential apartments and community housing.
INFORMATION
For more information, visit the Finnis Architects website (opens in new tab)