Faro Modernism Weekend 2023: this year's can't-miss additions
Faro Modernism Weekend 2023 launches, offering access to lesser known gems of the region and celebrating five entirely new entries to its programme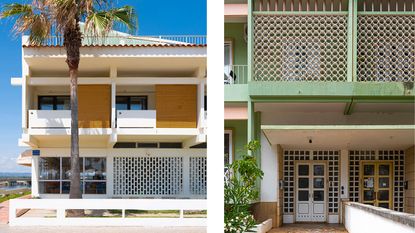 (Image credit: Michel Figuet )
Faro Modernism Weekend 2023 is about to kick off as the event where Algarvian sunshine and Faro modernist architecture converge returns for its second year on November 9-12 . After last year's inaugural weekend drew over 150 architecture lovers from across Europe and the US, founders Christophe and Angelique de Oliveira aimed to deepen this year's conversation with new tours, talks, events, and the grand opening of a modernist hotel initially designed by the pioneer of the South-Modern style, Manuel Gomes da Costa. Scroll down and mark your calendars for the new offerings to come.
Faro Modernism Weekend 2023: what's new this year
---
From Bauhaus to Beach House
British artist and part-time Faro resident Richard Walker will lead the From Bauhaus to Beach House tour. Guests will accompany him by boat to Faro Island, where they'll discover predominantly geometric and Moorish-influenced homes with flat roofs and minarets. Manuel Gomes da Costa designed many structures on view, including a culminating stop at Aeromar Hotel, resembling a vintage Howard Johnson beach holiday postcard. Hermès recently shot a campaign there.
Faro Vision
The Faro Vision tour will also be led by Walker, known for his eagle-eyed architectural observations, historical knowledge, and artistic insight. He will guide guests through Faro's downtown while homing in on design details. From the city's colourful and graphic modernist azulejos (Portuguese tiles) to doors, porches, murals, and graffiti, this tour will discuss the various art and architecture movements that influenced Faro. Cubism, Abstract Expressionism, and Constructivism are a few.
Manuel Gomes Da Costa walking tour
The Manuel Gomes Da Costa walking tour celebrates Faro's key architect, responsible for over 300 of Faro's buildings. Architecture Ph.D. and design professor Francesca Vita will lead and comment on his legacy throughout. Attendees will encounter many of his iconic buildings, from Rua de Berlim, an entire street of Da Costa-designed luxury villas, to his own Le Corbusier-inspired casa and atelier where mornings were for his meditation and karate practices and afternoons he worked.
Alto House Open House
During the Alto House Open House, attendees will tour a newly renovated, Da Costa-designed, 21-room hotel. Architect João Coutinho, who helmed the restoration efforts, will speak on the project that preserved many original details like Da Costa's signature Z-shaped stairs and parquet floors. Coutinho's vision also winks to Da Costa's era, when bottle-green and black taxi cabs ruled the streets – look for that color scheme throughout. And Coutinho himself custom-designed the period-inspired furniture.
Art Exhibition Vernissage and Cocktails
The Art Exhibition Vernissage and Cocktails will be housed inside the iconic former Moorish castle Fábrica da Cerveja and feature the Faro-inspired artworks of Richard Walker, Amsterdam-based illustrator Sander Patelski, who has illustrated many Manuel da Costa Faro buildings, and French architectural photographer Miguel Figuet. 'Working as an artist in Faro, surrounded by inspiring midcentury modern architecture, is about retrieving the joy of simple forms, texture and colour,' says Walker of his pieces.
Faro Modernism Week 2023 runs 9-12 November 2023, in Faro, Portugal
Receive our daily digest of inspiration, escapism and design stories from around the world direct to your inbox