Indiana's Exhibit Columbus festival promises to celebrate women in architecture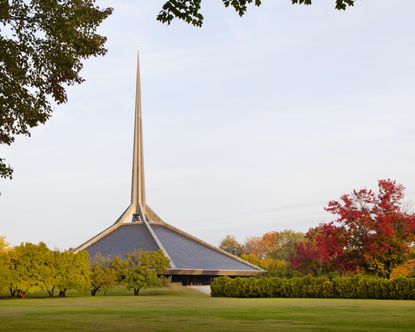 (Image credit: press)
Last weekend a group of designers got together in Columbus, Indiana – a microcosm of extraordinary civic engagement and even more extraordinary architecture – to discuss their plans for the forthcoming Exhibit Columbus, opening in August and running through December of this year. This is the second outing for the festival, meant to bring attention to the town and particularly the way in which both those with money (and the ability to commission architecture) and those without (and the ability to enjoy it) have all, seemingly magically, united and coordinated in their care of design.

Five firms – Agency Landscape + Planning, Bryony Roberts Studio, Frida Escobedo Studio, MASS Design Group, and SO-IL – have been invited, as Miller Prize Winners, to produce specially commissioned projects to coincide with the festival's schedule of exhibits, lectures, tours, and more. This year's theme is dedicated to uncovering that seeming magic behind how citizens and communities can come together to support a city.

'I do feel like it is more of a response to more global things happening,' Anne Surak, director of exhibitions says of this year's crop of designs, which – while in their early stages – all tend towards the politically engaged and overtly polemical. 'Being able to take this small Indiana city and explore all these things here, and become more applicable on a global scale, was where we wanted to take this exhibition.'
There is a strong female presence in this year's contributions, such as the participation of Mexican architect Frida Escobedo. Image: Frida Escobedo Studio

The model of civic engagement, particularly in the realm of architecture, first introduced by local businessman and philanthropist J. Irwin Miller and his wife Xenia Miller, is something that Surak hopes to see replicated throughout the US, perhaps inspired by the work formed around the festival. 'It's a model that's helped this city thrive when other similar sized cities have not – it's something that's worth exploring and highlighting', she says.

While the first exhibition, held last year, was successful on its own terms, the leadership found themselves asking what else they could do. They wanted to highlight the process of community collaboration, the way in which everyone in the city seems to be equally invested in making the city better, and came up with five modes of investment: affordable housing, civic structures, educational facilities, parks, and healthcare & wellness. Each prize winner, in their own way, addresses one or more of these five avenues.
This year, the organisers also focused on female-led practices; four of the five are helmed by women. That – and a general emphasis on creating a feminist practice – led to Agency principals' Gina Ford and Brie Hensold's contribution, called 'XX': a site-specific installation comprised partially of a series of purple plants that can be arranged and rearranged to support different modes of programming, creating a public pavilion that encourages discussions and dialogue around overlooked women.
New York based SO-IL has also put forward a strong proposal. Image: SO-IL

The installation is sited at the AT&T Facility, built in 1978 and designed by Paul A. Kennon. Their project will open first, in May, and to begin they will be inviting passersby to write down, on a card, a short story about a woman who made a difference their lives. 'Women are erased' in architectural history, Ford points out. Historically, women have often been 'photoshopped' out of group portraits; consider Denise Scott Brown's omission from her partner Robert Venturi's Pritzker Prize. 'Our project is about photoshopping women back in,' Ford says. It's a quick metaphor, but the project's use of the strength of a simple concept and the accessibility of an approachable landscape design renders it especially powerful.

Their installation is particularly moving because of the combination of formal representation – the double 'X''s refer to crossing something out – and narrative agenda – their presence refers to adding something back in. It makes sense on an intellectual level and also a purely experiential one, and everyone is optimistic about the project's capacity to continue a conversation about women's roles in architecture – a conversation that's been going on for decades but that hit a fever pitch last year.
'This is something that hopefully will stay with people as they get older,' Surak says of this year's approach. 'You never know when someone's exposure to art or architecture will be that moment when they decide it's an important thing in life.'
INFORMATION
For more information visit the website (opens in new tab) of Exhibit Columbus