Exhibit Columbus 2022 kicks off in Indiana
The newest cycle of the Exhibit Columbus architectural festival has began in Indiana, USA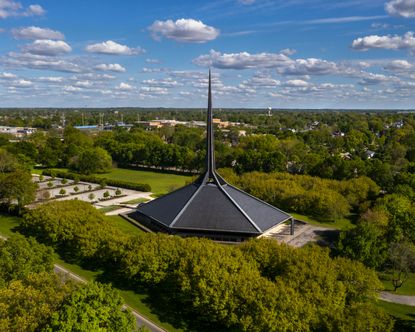 (Image credit: press)
Exhibit Columbus 2022 began with the architecture festival's newest two-year cycle kick-off. Events commenced with a two-part inauguration event on 14 and 15 June that highlighted a desire toward increasing economic, social and cultural resilience in the city. The fourth cycle of Exhibit Columbus features two key municipal partnerships – one with the City of Columbus, through a National Endowment for the Arts Our Town Grant, and the other with the City of Bloomington's Department of Economic and Sustainable Development.
The second day of the kick-off event introduced six new curatorial partners with extraordinary backgrounds in architecture, art, and design – along with extensive experience working with diverse communities. They are Paola Aguirre, urban designer and co-founder of studio Borderless; Chris Merritt, landscape architect at Merritt Chase; Lauren M Pacheco, civic and cultural artist with the Steel Studio Foundation; designer, writer, and educator Bryony Roberts; Raymund Ryan, who is curator-at-large at The Heinz Architectural Center at Carnegie Museum of Art; and Holly Warren, assistant director of City of Bloomington Arts, Economic, and Sustainable Development Department. A separate list of curatorial advisors is also appointed, including James Lima and Yuxiang Luo of James Lima Planning + Development, Indiana University's Daniel Luis Martinez, Columbus Human Rights Commission's Aida Ramirez and Janice Shimizu, assistant professor at Ball State University.
Leaders from four downtown Columbus organisations were also introduced as community curators for the J Irwin and Xenia S Miller Prize. They will assist the curatorial partner team in directing future outcomes for the Miller Prize recipients. They are Jason Hatton, executive director at the Bartholomew County Public Library (Cleo Rogers Memorial Library); Dave Hayward, a city engineer and also executive director of Columbus Public Works (Downtown Civic Infrastructure); Mark Jones, director of Columbus Parks and Recreation (Mill Race Park); and Dan Mustard, who is executive director at the Mill Race Center.
'We are thrilled to kick off this cycle with so many dynamic and visionary leaders,' said Richard McCoy, executive director of Landmark Columbus Foundation. 'We have spent the past six months reimagining how Exhibit Columbus connects with our community and how that can be relevant around the state and country. The whole organisation is excited to push this cycle beyond the traditional art and architecture biennial construct.'
On 14 June, a moderated discussion entitled 'Downtown Reconsidered' addressed a recent study, describing strategies to further activate Columbus' lively downtown by highlighting its many assets, including proximity to the riverfront and its world-famous cultural and architecture scene. Panel participants mayor Steve Barnett (City of Franklin), deputy mayor Don Griffin (City of Bloomington), and mayor Jim Lienhoop (City of Columbus) discussed how the study related to their downtown regions, with Scarlett Andrews, director of department of metropolitan development for the City of Indianapolis, who served as moderator.
The schedule for the upcoming cycle of Exhibit Columbus includes a symposium in October 2022, followed by design presentations in February 2023, and the final exhibition that will conclude the event, which is set to run from August through November 2023. Watch this space.
INFORMATION