Architects take to the streets for the inaugural edition of Exhibit Columbus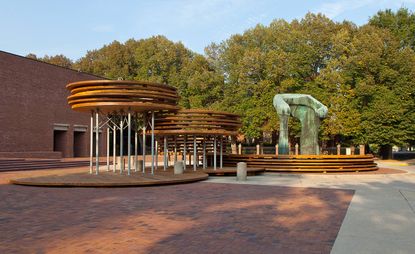 (Image credit: Hadley Fruits for Exhibit Columbus)
Home to more than 80 buildings, landscapes, and public artworks by internationally noted architects and artists – including Eero and Eliel Saarinen, IM Pei, Kevin Roche, Harry Weese, Robert Venturi and Denise Scott Brown to name just a few – Columbus, Indiana (population 46,000) is one of the most extraordinary design cities in the world. Celebrating that legacy – and hoping to inspire future waves of creativity – is Exhibit Columbus, a biannual exhibition that recently kicked off its inaugural edition.

The event, made possible by the city, state and a host of foundations and donors, includes 18 site-specific installations, dotting the cityscape and communing with its remarkable built fabric. These include the five winning projects of the Miller Prize – large pavilions and public art works lining Columbus' Fifth Street – as well as gallery-commissioned work and impressive student creations.
'We wanted to activate the city and show the community, "Here's ambition",' says Landmark Columbus director Richard McCoy, one of Exhibit Columbus' chief instigators. Ambition indeed. Simply walking down Fifth Street, also known as Columbus' 'Avenue of the Architects' for its concentration of astounding buildings, is a design smorgasbord fusing old and new.

You start with Aranda\Lasch's Another Circle, set within Michael van Valkenburgh and Stanley Saitowitz's Mill Race Park. Composed of 1,100 pieces of salvaged Indiana limestone that are placed, stacked, and randomly arrayed around the landscape, it evokes burial grounds and spiritual spaces from Stonehenge to Arlington Cemetery.

Other stops include Plan B's Anything can happen in the woods, a surprising collection of grassy mounds and mirrored steel columns lurking under the exterior loggia of Roche Dinkeloo's Cummins Corporate Office Building; Studio Indigenous' Wiikiaami, a swooping conical wigwam created out of rebar and overlapped copper scales creating a gateway to Eliel Saarinen's First Christian Church; and Oyler Wu's The Exchange, an ivory white pavilion carved away by complex geometries, shadowing Eero Saarinen's similarly massed Irwin Conference Center.
Talk to artists and designers here, or peruse the built chimeras up and down Washington Street, at Central Middle School, and along other leafy corners of this place, and you sense a bubbling local will to propel Columbus from time capsule to thriving design destination.

'If they're going to retain this legacy, a commitment has to be made to design,' says Kelly Wilson, director of the Indiana University Center for Art + Design. His team created Shadow of an Unknown Bird, a limestone, Plexiglass and steel abstraction created by a giant 3D printer. Other Indiana students created Synergia, a folded cardboard geometric marvel channeling Saarinen's North Christian Church.

And what better way to cement this commitment than through an interactive experience of the city itself? 'It's good in this day and age for people to be talking about architecture as an experience, rather than a series of pictures,' explains Chas Wiederhold, an M Arch student at the University of Cincinnati, who helped create Alchemy. Repurposing industrial waste, the project took the form of a playfully graphic pavilion that you would never expect to be so good.
INFORMATION
Exhibit Columbus runs until 26 November. For more information, visit the website (opens in new tab)