Estuary explorer: a floating weather station commences its tour of the Thames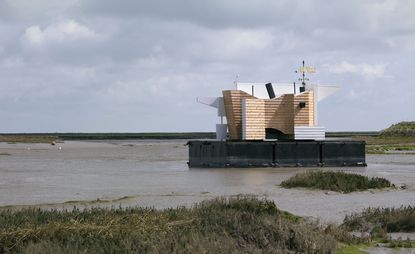 (Image credit: Brotherton-Lock)
Rising sea levels, spiralling house prices and a shortage of development sites in the world's major cities have prompted a spate of architectural proposals for floating residential concepts in recent years. As part of this ongoing dialogue, a new floating prototype conceived by architect and designer Matthew Butcher takes to the water this week, offering a more poetic perspective on the problem.

Scheduled to moor at a number of sites around the Thames Estuary, an area that is increasingly vulnerable to the risk of flooding, Butcher's Flood House will be towed from site to site by a single tugboat over the next four weeks.

'By presenting an architecture that is towed from one location to another and where occupation is effected by the rise and fall of the tides, the project seeks to question the way built structures relate to the environment,' explains Butcher. 'Architecture is usually considered to be a stable, fixed entity where internal temperature and conditions of comfort are heavily controlled. Flood House seeks to challenge these notions, suggesting instead a nomadic architecture that forms a responsive relationship to its surrounding environmental conditions.'

As well as serving as a poetic exploration, the project is also underpinned by a practical investigation into the surrounding environment. An onboard laboratory will record local weather conditions while also monitoring the condition of the structure's plywood surface and how it reacts to its environment.

Measuring 5.5m by 7.5m, fabricated in ply and weatherboard and floating atop three steel pontoons, the structure takes its design cues from what Butcher refers to as the 'Essex vernacular' – fishing sheds and boats, World War II pillboxes and bunkers as well as the Maunsell naval sea forts.

A year in the making, the Flood House project was made possible by funding from UCL, where Butcher works as a tutor at the Bartlett School of Architecture, as well as the Focal Point Gallery in Southend-on-Sea, who worked with Butcher to develop a programme of commissions and events made in response to the project, in collaboration with curator Jes Fernie. An artwork by the artist Ruth Ewan is included.
INFORMATION
Flood House launches at Southend-on-Sea on 30 April, as part of the Radical Essex project (opens in new tab), where it will remain moored until 12 May. For more information on Matthew Butcher, visit the website (opens in new tab)