Celebrating the life and work of Australian modernism pioneer Enrico Taglietti (1926-2019)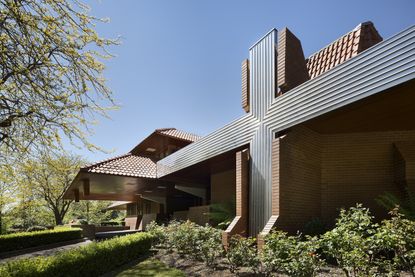 (Image credit: Anthony Basheer)
On 17 July 2017 I was fortunate enough to visit a house in Australia by Enrico Taglietti. The then-91-year-old architect welcomed me with honest kindness, and together with his daughter Tanja and photographer Anthony Basheer we went on to explore a few of Taglietti's buildings, which are spread across the expanses of Canberra. This unforgettable meeting with the Australian architecture guru has been imprinted in my mind even since; and the experience immediately came back to me, when I found out that Taglietti passed away this week.

Taglietti worked in Canberra for most of his career, taking part in the development of this modern city in the Australian bush. Born in Milan in 1923, the architect spent his childhood in Eritrea. When he returned to Milan after the war, he enrolled into architecture school and studied under prominent mentors, such as Pier Luigi Nervi and Bruno Zevi. He graduated in 1953 and worked in Milan on interior and spatial design projects, including exhibitions for the Milan Triennale and private apartments. An impressive honeycomb shelving system he developed for one of them featured prominently in the pages of Domus magazine at the time.

But then everything changed. Taglietti travelled to Australia to work on an exhibition on Italian design. During his trip, he visited Canberra and was commissioned to design a new building for the Italian Embassy there. He immediately fell in love with the city, which was unspoilt and spread out across a pristine natural landscape, untouched by urban ugliness and human history. He saw huge potential for an architect working in such a unique context, so decided to settle there. Kick starting his office with work for the government and foreign institutions, Taglietti went on to become quite prolific, designing schools, offices, clubs, and office buildings, which today dot Canberra's urban fabric.
During the 1960s and 1970s he developed his signature, dynamic style of horizontal volumes and sharp edges that echo the lines of the Australian landscape. His structures were shaped by both the organic architecture of Frank Lloyd Wright and the dynamism of the Italian post-war avant-garde, such as the expressive forms of Carlo Mollino, who he also met with during the early stages of his career.

His Giralang Primary School, built in 1974, consists of a series of pitched pavilions with flowing interior spaces framed by curved arches and pillars that create an atmosphere of fun and drama. Other seminal works include the Apostolic Nunciature, designed in 1975, and the 1977 Australian War Memorial Annex with its distinctively brutalist flavour.

Taglietti also thrived in the context of private commissions. He built dozens of homes for Canberra's intellectual elite. The Dingle house, built in 1965, features dramatic expansive volumes with overhanging roofs and terraces. Closed off from the outside to protect the interior against the sun, Taglietti's houses opened up inside through flowing, multilevel layouts and custom built elements, as seen for example at the fortress-like Evans house.

Enrico Taglietti's contribution to Australian modernism was shaped by his European experiences but equally by the specific local and social climate he lived in. Yet, despite his long and successful career in Canberra, the architect's work was only recently more widely recognised; not that this makes his oeuvre any less deserving. Taglietti's thoughtful and well-made architecture, fine-tuned to the last detail, represents an important iteration of the global Modern movement.
INFORMATION
For more information, visit the Enrico Taglietti website.
Receive our daily digest of inspiration, escapism and design stories from around the world direct to your inbox