Developers Uribe Schwarzkopf are ushering in a new dynamic era for Quito
Following on from a journey to Quito in our Summer 2020 issue, we sit down with Tommy and Joseph Schwarzkopf of leading Ecuadorean developers, Uribe Schwarzkopf to discuss a city in transition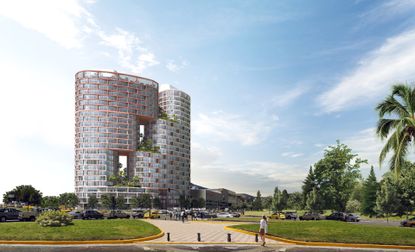 (Image credit: Bjarke Ingels Group)
Pre-pandemic Quito was a thrilling, thriving capital city, poised to step out of the shade of its more famous Latin American capitals and into the limelight. Ecuador has widely been reported as one of the early hotspots for Covid-19 in the continent and there have been protests in Quito at the government's handling of the crisis. As is the case globally, the economic, political and social fallout here is unknown. Perhaps the only certainty, indeed for all of us, is that the future is not what we thought it would be.

Uribe Schwarzkopf, Quito's leading developers, have been in the business of building the capital's future for nearly 50 years. Founded in 1973 by architect Tommy Schwarzkopf, the son of Czech immigrants, the firm has built almost 200 projects in Quito. Tommy and his son Joseph (now general manager of the business) recently collaborated with several global architects, introducing striking projects of noteworthy design to the Quito skyline, simultaneously accommodating for and driving a new urban lifestyle culture in the capital. Who better to call upon to find out what lies ahead for Quito?
Wallpaper*: You describe Uribe Schwarzkopf as 'more than developers' – what do you mean by this?

Tommy Schwarzkopf: In a literal sense we are architects, builders, developers, social and cultural engineers, too. I've always believed that our mission is greater than that of developers in the standard sense. We work in the service of Quito – the city and its population – and our goal must be positive change and impact for both.
Joseph Schwarzkopf: We might be a heritage family firm, but we are a new breed of developer, practising what we call 'healthy urbanism'. We take our responsibility seriously to understand the connections between design, construction, infrastructure and urbanism. In a rapidly developing capital and culture, we have opportunities to learn and implement good social and environmental practices in all that we do.

W*: What are some examples of this?

Tommy: A values-driven approach that cuts through everything we do: from achieving the highest global standards for our architecture and construction, to both founding and supporting local environmental and urban sustainability initiatives. We are working towards B Corporation certification to quantify our commitment to positive practice and purpose beyond profit.
Joseph: Last year we founded an initiative called Mujeres de Altura (Women of Height) to empower women to work in construction by offering training and support. Our construction sites have 10 per cent female workers compared to the national average of 2 per cent. In a wider sense, we are conscious of the importance of culture in healthy urbanism. We support several cultural hotspots and programmes across the city, with a view to raising the quality of life of Quito's inhabitants.

W*: You have an impressive roster of collaborators in architecture and design – Moshe Safdie, BIG, Jean Nouvel, Tatiana Bilbao, Philippe Starck, Marcel Wanders, Arquitectonica, Carlos Zapata. Are you committed to the local architectural scene also?

Joseph: Absolutely – we do our best to maintain a balance of working with international and local firms. Quito has an impressive scene and a growing younger generation of excellent and interesting architects like Diez + Muller, Leppanen Anker, Felipe Escudero and Daniel Moreno Flores, all of whom we work with. Collaborating with global names in architecture is not for star-collecting, it brings interesting and different creative perspectives to the urban landscape here, and helps us raise the quality of our own construction industry.
Tommy: Each of our collaborations is a cultural dialogue that brings different results. We are clear that we are offering lifestyle upgrades for the rapidly expanding middle and upper middle classes here in Quito. We take the idea of community seriously – servicing communities that inhabit our residential properties, but also providing for local communities.

W*: How does the property and construction landscape look today in the shadow of the pandemic?

Joseph: As with communities, industries and countries everywhere, it is a tragic situation and an uncertain future here. Our immediate focus is on providing practical support to those in need, in ways that we can. Going forward, we have seen in previous difficult times that construction and housing markets bounce back. They are solid ways of boosting economies, and in times of uncertainty, people feel more secure investing in property than keeping savings in the bank. The saying 'safe as houses' resonates with us, though our literal translation is 'safe as bricks'.
Tommy: I am sure our investment in design, culture and urbanism will serve us well. We have been careful to create buildings that respond to the needs and desires of their inhabitants and contribute positively to neighbourhood and city life, too. However significant the trials and tribulations that disrupt life, good design stands up to time.
SEE MORE FROM WALLPAPER* SUMMER 2020 ISSUE
INFORMATION
Receive our daily digest of inspiration, escapism and design stories from around the world direct to your inbox