Island life: Urby brings a new residential hub to Staten Island, New York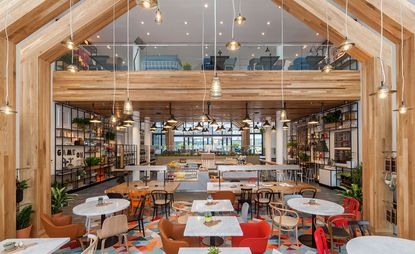 (Image credit: press)
Urban farms, communal kitchens and outdoor terraced pools aren't usually associated with Staten Island. But Urby, a new way of living, plans to change that. Under the watch of developer David Barry, whose firm Ironstate will also launch a similar living concept in Jersey City soon, the Dutch architecture firm Concrete created what can only be described as friendly living. In the words of Barry, the 'thoughtful and not random' development is a somewhat new concept: an urban community with premier amenities, with the health, happiness and wellness of its residents in mind.

With some 570 rental units in three distinct housing blocks (and another 430 units to come still), Urby sits on the North Shore waterfront, in Stapleton, a neighbourhood overlooking downtown Manhattan, just two train stops away from the Staten Island Ferry.

'There's a bunch of industrial buildings, and it's a little scrappy still and kind of coming into its own. It's not one of those neighborhoods that has like, wow, gorgeous architecture,' says Barry. 'Like, you know, what Soho once was.'

In fact, the Stapleton Waterfront was a $32 million dollar undertaking by the city government, a note that Barry points to as a sign of urban regeneration, citing Battery Park, Williamsburg, and Astoria as other waterfronts that prompted neighborhood facelifts. With 380-sq-ft studios ($1,508), one-bedroom ($1,933) and two-bedrooms ($2,507) apartments, Urby has so far attracted a mix of renters, including about 50 per cent Staten Island locals, 40 per cent ex-Downtown Manhattan residents, and 10 per cent newbie New Yorkers. 'It's an authentic vibe,' he says.

The complex certainly has a Dutch touch. Concrete designed with community in mind, where public spaces prompt social interaction, whether from the interconnected public pathways or the filtered water pump (glass jugs are given to each tenant), echoing medieval European water troughs in city centres.

On-site, there's a variety of dining options, pulling in local businesses, including Red Hook's famed Hometown Bar-B-Que. But the locus of Urby is its public coffee house, designed to 'metaphorically be a house', says Barry. It's run by Queens-born Coffeed, which also oversees the Bodega, both stocked with goodies made from Urby's own farm produce. The farm also provides bounty for a weekly farmer's market, with aisles of kale, cucumbers, tomatoes, sunflowers and some other 50 varieties. Urby just might be the proof that amid the pizza and red-sauce, the oft-forgotten borough of Staten Island can be a creative place to live for those from across the Harbor (and beyond).
INFORMATION
Urby is now available for leasing. For more information, visit the Urby website (opens in new tab)
ADDRESS
Urby
7 and 8 Navy Pier Court
Staten Island, NY 10304
VIEW GOOGLE MAPS (opens in new tab)