Fernanda Marques designs Brazilian house centred on its relationship with nature
Brazilian architect Fernanda Marques reveals the expansive Casa Jabuticaba in her home country's city of São José dos Campos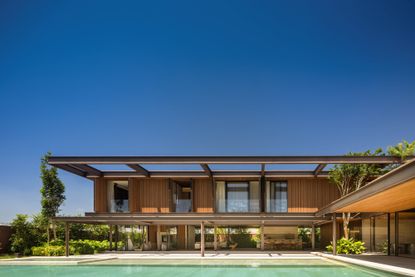 (Image credit: Fernando Guerra)
Casa Jabuticaba takes the requisite parts of a grand family home and pulls them apart to form an interlinked chain of moments around a planted garden. Designed by Fernanda Marques Architecture and located in the Brazilian city of São José dos Campos, the home has been designed to centre the family's lives on nature and evolve with them over time.
Entering from the street, swaying grasses lead guests up to a 3.5m pivot entry gate. Beyond this, a relatively compact courtyard featuring water, small trees and low-level shrubs evokes an image of a wild retreat and establishes a visual relationship with the larger garden at the rear of the house.
The travertine floors at the entrance continue into the main living areas on the ground floor and out onto the rear terrace, helping to establish a seamless connection between indoor and outdoor spaces. The string of social spaces includes a cinema room, lounge, formal dining room and an informal eating area that overlooks the kitchen. All of these spaces are given clear views out into the garden owing to the full height sliding glazing that can be neatly concealed in hidden pockets.
Vertical cumaru timber battens line the walls and ceilings of the living spaces adding warmth and reinforcing the connection to nature – the result is a feeling of being cocooned within the hollow of a tree. The embrace of the textures of natural materials is continued on the terrace, an in-between space that is covered yet open to the elements. The selection of furniture includes pieces by Gustavo Bittencourt and a Hugo França dining table made from a salvaged paqui tree. Bespoke pieces by Fernanda Marques are on display too, such as the roughly hewn pine coffee tables inset with Patagonian granite. According to Marques, the tables are a 'subtle nod to the need for conservation and reforestation, being made from a species cultivated to re-establish forests in south-east Brazil.'
Climbing a sinuous corten steel and travertine staircase to the first floor one finds the main bedrooms – each with its own ensuite. Running perpendicular to the living spaces downstairs, the bedrooms will have the best of the evening sun, but discreet mechanical shutters can screen the sun to limit solar gain if required. As with the downstairs, there is a continual awareness of nature. The master bedroom overlooks a conservation area and the jabuticaba trees that puncture openings in the cantilevered roof structure invite dappled light and the play of soft shadows into every room. The cumaru reappears on the upper floor too, accompanied by other tactile elements like the face basin carved into Brazilian marble from a quarry in Espirito Santo.
The deft control of natural materials means that this family home has the potential to offer something new every year; new combinations of light and tone and new textures too, as each material takes on a unique patina.
INFORMATION