Casa Enso II is in harmony with its Mexican context
Casa Enso II by HW Studio Architects is a new residence in tune with Mexico's historic Guanajuato region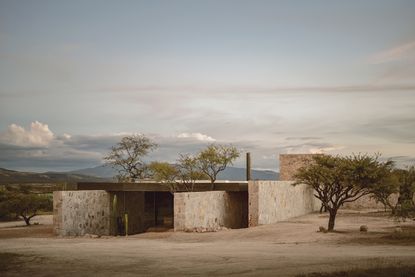 (Image credit: César Béjar)
Casa Enso II by HW Studio Architects is the result of a thorough historical investigation into Mexico's Guanajuato region. The practice's research highlighted a distinct identity that is unique to the region, and which permeates everything from local architecture to household utensils and even the area's legendary tales.
Well-versed in producing work that is harmonious with its environment, and using their findings, the architects created a residence that exemplifies their 'functional, meaningful, and inspiring architecture'.
Casa Enso II respects Guanajuato's identity
'In this area of the country, stone is an element deeply rooted in any form of cultural expression,' reflect the architects. Stone was the natural material choice in the project, and became principal in the architecture of the residence. With accessible material banks and capable labour nearby, the studio was able to not only use the same material language as Guanajuato's rich, existing building fabric, but also local craftsmanship, engendering a culture of respect for and sensitivity to the existing landscape.
Division of space
The residence follows a cruciform plan, dividing the space into four quadrants that are demarcated by stone passageways. Each quadrant carries its own 'vocation', with different forms reflecting the different functions of the spaces. The first, lower right quadrant's purpose is to receive visitors into the home, with a garden that 'reinforces, protects and welcomes living beings'. The second quadrant hosts cars, with existing trees providing shade.
The third quadrant is a one-bedroom suite, where public and private spaces are separated by bathrooms, dressing rooms and a service area. Lastly, the fourth quadrant is the office, the only space to bring a marked verticality. It elegantly contrasts with the horizontality of the residence and its surrounding plains.
Living in 'permanent pilgrimage'
The stone passageways that unite the different spaces create a 'permanent pilgrimage' between them; a journey in which one perpetually comes into contact with the earth, air and mountains. This experience mimics that of passing through an 'ancient monastery', the architects write, creating moments to feel grounded in the distinct materiality that is indigenous to the Guanajuato region. This way, HW Studio Architects acknowledges the residence as 'framing the landscape but at the same time forming a natural part of it'.
Nana Ama Owusu-Ansah is a writer and photographer from London. She first wrote for Wallpaper* in 2021, in a series on the new vanguard of African designers practising in Africa and its diaspora. She is drawn to projects centring on decolonial approaches to art, architecture, as well as community and sustainability. Nana Ama read Economics and Spanish at University of St Andrews, and, as an avid linguist, is passionate about using accessible language to invite new audiences to engage in design discourse.