Made in Milan: inside Carlo Aymonino and Aldo Rossi's iconic Gallaratese housing project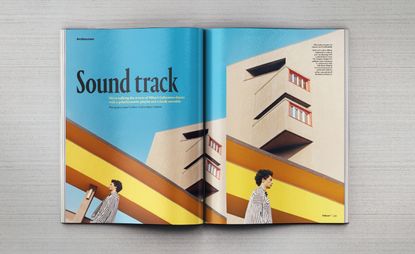 (Image credit: Photography: Laura Coulson)
When architect Carlo Aymonino started working on the designs for an affordable housing complex commissioned by the City of Milan in 1967, he wanted to reflect his neo-rationalist ideas and theories for a future urban community. But it was also quite clear that he wanted to design an icon that would go down in history.

Rome-based Aymonino commissioned Aldo Rossi to design one of the five buildings in the Monte Amiata housing complex, located in the Gallaratese neighbourhood in northwest Milan. Completed in the mid-1970s, it was a time when both Italian architects would soar to prominence on the international architecture scene.

For the September 2017 issue of Wallpaper* (see W*222), we explored the iconic housing estate with photographer Laura Coulson and her band of merry models, suited in Emporio Armani, booted in Bottega Veneta, shaded by Gucci and accessorised with vintage Sony Walkmans, all to the synth sounds of Italo-disco.

As Italo-disco was mixing homegrown electronic beats alongside sampled sounds from across the Atlantic, Aymonino and Rossi similarly looked first to traditional Italian architecture, and then abroad to Bauhaus to construct their style. Both architects belonged to the neo-rationalist school of thought, which held up historic architecture as an example to be followed. Aymonino's four buildings drew directly from the stepped Roman amphitheatre and Trajan's Market, with its varied, asymmetric, but also very structured form.
At Gallaratese, Aymonino designed complex typologies of apartments, stacked up upon each other at various recessions, alternating glass blocks with balconies and red window frames. Even parallels can be seen in the warm russet tones of the Trajan's Market brick, reflected in the pink concrete tones of Aymonino's blocks at Gallaratese.

At the same time, both architects were fascinated by the Unité d'habitation in Marseille, completed in 1952. Inspired by the modernist style and theory set out as a community-building project by Le Corbusier, Rossi's contribution to the design sits in complete contrast to Aymonino's. His single rectangular building is a strict, white plastered, autonomous block stretching 200m and raised up above a ground floor colonnade.

The Unité d'habitation presented ideas of a unified community that was self-contained and cohesive, yet also part of the city. At Gallaratese, the architects designed covered and uncovered yellow walkways to connect the 440 apartments to each other and the city outside, as well as public space – a central amphitheatre and two triangular shaped plazas to socially serve the community. Along Rossi's ground floor colonnade, retail and commercial spaces were designed, although these were never realised into the intended purpose.
The brief from the City of Milan to the architects was to design a low-income housing complex that integrated green space, public services and connections to the city within its plan. At the time of commission, the 12-hectare site at Gallatarese was owned by the Monte Amiata Mining Company. Originally purchased for the use of commercial agriculture, it was pinpointed as a key site for development by architects and planners devising a post-war masterplan for new housing in Milan. Consequently in 1952, the City of Milan and Monte Amiata entered into a business deal for the construction of the housing project, an early example of public and private housing enterprise that has now become the norm.

Whether the project that completed in 1974 offered much success in housing low-income Milanese residents is debatable. First, squatters controversially occupied it. Rents then rose at the same rate as the architects' rise to international prominence and a design-conscious bourgeois moved in to stay. Yet Aymonino and Rossi's urban ideals of an inclusive urban community can be seen at play at the fully occupied complex with approximately 1,500 residents – older residents play cards in the communal spaces and one ground floor room can be reserved for resident's events such as debates, reunions or book clubs free of charge.

In terms of architectural success, the masterpiece became instantly iconic. The Milan-based Anticàmera Location Agency – collaborators for our Style Special fashion shoot – describe Gallaratese as a virtuous example of good preservation and commitment. The engagement of the agency itself in revealing historic sites to the wider public through photography has allowed it to access often private places of architectural significance that are rarely seen.

Today tourists, students and visitors can explore Aymonino and Rossi's development free of charge for one hour maximum, thanks to an awareness of the importance of the site among residents, doorkeepers and preservation groups alike. It's time to dig out your Sony Walkman, plug in and waltz down a yellow walkway. Start the clock.
ADDRESS
Monte Amiata Housing
Via Cilea 34
Milan
Harriet Thorpe is a writer, journalist and editor covering architecture, design and culture, with particular interest in sustainability, 20th-century architecture and community. After studying History of Art at the School of Oriental and African Studies (SOAS) and Journalism at City University in London, she developed her interest in architecture working at Wallpaper* magazine and today contributes to Wallpaper*, The World of Interiors and Icon magazine, amongst other titles. She is author of The Sustainable City (2022, Hoxton Mini Press), a book about sustainable architecture in London, and the Modern Cambridge Map (2023, Blue Crow Media), a map of 20th-century architecture in Cambridge, the city where she grew up.