Financial Times office building Bracken House restored to glory in London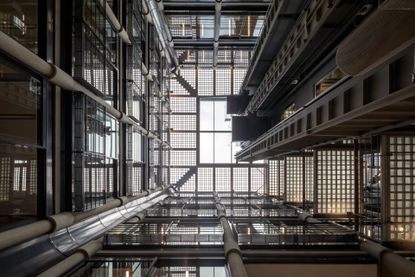 (Image credit: Peter Cook)
Bracken House's atrium roof has been altered by John Robertson Architects to bring more light into the building – just one of the respectful updates to the building designed by Sir Albert Richardson and Michael Hopkins.
In the City of London, just down the road from St Paul's, Bracken House is a machine of an office building with a split personality. A vast metal concertina of bay windows on Friday street is countered by vertiginous red brick façades either side. Designed by Sir Albert Richardson in 1959 as the headquarters for the Financial Times (FT), the building was extensively remodeled between 1988 and 1992 by Michael Hopkins. Bracken House is what happens when a classicist meets a high tech modernist on Cannon Street.

Picking up the baton for the 21st century, John Robertson Architects (JRA) was enlisted by the owners, the Obayashi Corporation, to bring the office up to contemporary standards with a sensitive refurbishment. Instead of adding more personality to this giant, JRA approached Bracken tentatively, with respect and awe.

You can hear it in the voice of David Magyar, director at JRA, as he describes Hopkins' central atrium as a 'moody gothic' version of Pierre Charret's Maison de Verre. Here, layers of concrete and glass-brick walkways collide cinematically into a futuristic factory. It's an architecture of productivity, imagination and industry. This personality earned Bracken House Grade II* listed status twice, first in 1987 when it became the first post-war building to gain a listing, and again in 2013.
Yet JRA weren't afraid to rethink and redraw either. It's easy to romanticize Bracken House, in all its gothic modern glory, yet it needed to be more functional, low energy and flexible, equipped to new standards of City working. So while restoration played an important role, 'enhancement' was the better way of describing JRA's interventions. 'It's a balance between conservation and progression,' says Zemien Lee, associate architect at JRA, of the interventions.

While Hopkins' jewel of an atrium might have had the ambition of high-tech, it has the heaviness of Westminster underground station. Light only marginally penetrated through the weighty glass brick roof, suppressed further by more layers of concrete clad glass bricks. JRA had to find a way to bring more light into the magnificently dystopian, yet somewhat gloomy central atrium.
A major intervention to the ceiling grid of glass-bricks seemed unavoidable: 'I have to be honest, we changed our minds two or three times internally on whether it should be clear outside, clear inside, fully clear, we agonised about it,' says Magyar. So after consultation with Historic England, JRA decided to carefully cut out space for new glazed panels within the existing grid of thick glass bricks. While the intensity of the original design has decreased, the spirit echoes in a continuing rhythm, and ultimately it disperses much more light through the atrium. Elsewhere, broken glass bricks were replaced with originals from a leftover stash, but as the exact type of bricks are no longer made, replicas replace broken bricks in some places – 'it's the devil's own job to repair them,' says Magyar.

The Kahnian material palette of concrete, stainless steel, timber, portland stone and terrazzo, was preserved and built upon across the whole design. Externally, the Hollington Staffordshire pink sandstone cladding – chosen to reflect the colour of the FTs salmon pink pages – was repaired and cleaned up, while lanterns and copper roofs were either restored or faithfully replicated. In the reception, expanded by JRA into a more welcoming space, new matte finish American Cherry handrails are a more contemporary alternative to Hopkins' original polished handrails of the same material. Limestone replaces portland stone while bringing the same colour and hue. Bronze screens have been replicated yet subtly redesigned to fit the enlarged space.
The glass lift cars that whisk you through the core of the atrium were carefully dismantled to be updated, 'a bit like servicing an old motor car,' says Magyar, who picked apart the 'antediluvian' lift buttons and controls. Lee designed new signage for the lifts with an arrangement of geometric metal extrusions that echo the cadence of the Hopkins façade. 'It was about modernisation, but nothing screams at you,' says Magyar.

The listed status of the building meant that every move JRA made was under scrutiny from Historic England, the City of London, and the 20th Century Society. The toughest cookie however was the surveyor to the fabric of St Paul's, the fervent executor of the St Paul's Heights Grid. He demanded verification to the 100mm across every inch of the roof design – not even a plant could grow higher above the grid.
'It's not loud architecture, it's a quiet but confident architecture'
Despite these constraints (all architects love a good constraint anyway), the roof is where JRA have made their most bold contribution to the design. A rooftop garden had been part of Hopkins' original designs, yet it was never realized, which gave JRA the opportunity to move beyond 'enhancement' into the realms of pure creation (albeit under the beady eye of the St Paul's surveyor). Palazzo Carignano by Guarino Guarini in Turin was chosen as a starting point, for its architectural influence on Richardson's first building design. Yet instead of looking at the rational plan or the austere brick façade, Lee stepped into the Sala del Parlamento Subalpino and looked up to the decorative baroque ceiling. The characterful and coiffed curves found there were stripped back and simplified into a sinuous and softly sloping promenade and planting bed scheme – 21,500 sq ft of sleepy Roberto Burle Marx with panoramic views.

The rooftop will be a lunchtime destination for FT employees who, after setting up camp in Southwark for 30 years, have now made a triumphant return back to the building filled with history – the FT was once printed on site at Bracken House in the age of the Richardson design. A lot has changed since then. Perkins and Will was in charge of the interior fit-out for the offices (capacity 2000), working to a subdued colour palette of greys, in collaboration with JRA's restoration and the history of the building.
Much of JRA's work in the offices was about creating better links between the Richardson and Hopkins parts of the building, and interestingly, redesigning a Hopkins lighting scheme that was listed for its effect on the exterior view of the building by night. All the bespoke fluorescent lights were replaced with standard LED ones, and the orientation of the lights was shifted to create a similarly dynamic effect by night and still express the structure of the building. 'It pays to investigate the detail,' says Magyar.

JRA has developed an eye for a restoration – elsewhere within the Square Mile, the team recently refurbished the Grade II* listed Daily Express building on Fleet Street and were in charge of re-cladding Chamberlin Powell and Bon's Grade II listed Great Arthur House on the Golden Lane Estate. Bracken House was more of an architectural challenge, mainly because of the high architectural esteem and legacy of the building.

'As a firm we do take quite a contextual approach, but we do like to be original and respond to it in some way – sometimes you respond in a more flamboyant way and sometimes you pay respect. What we've tried to do here is pay respect. If there's anything that I hope we've achieved is that nothing jars, that it enhances the space, and what we have cut off here, we hope it breathes a little more there,' says Magyar. 'It's not loud architecture, it's a quiet but confident architecture.'
INFORMATION
For more information visit the John Robertson Architects website (opens in new tab)
Harriet Thorpe is a writer, journalist and editor covering architecture, design and culture, with particular interest in sustainability, 20th-century architecture and community. After studying History of Art at the School of Oriental and African Studies (SOAS) and Journalism at City University in London, she developed her interest in architecture working at Wallpaper* magazine and today contributes to Wallpaper*, The World of Interiors and Icon magazine, amongst other titles. She is author of The Sustainable City (2022, Hoxton Mini Press), a book about sustainable architecture in London, and the Modern Cambridge Map (2023, Blue Crow Media), a map of 20th-century architecture in Cambridge, the city where she grew up.