Industrial complex: French ad agency BETC moves into Pantin's Les Magasins Généraux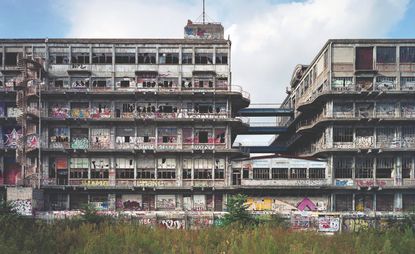 (Image credit: press)
The 23-year-old French advertising agency BETC may well have just taken on its most ambitious project to date: moving into the rehabilitated complex of Les Magasins Généraux, by the Canal de l'Ourcq in the development zone of the port of Pantin, where north-east Paris meets the countryside.

The brains behind the advertising campaigns of Air France, Evian, Louis Vuitton and the like, BETC's founder Rémi Babinet first set eyes on the building in 2008. He saw beyond the 1930s industrial complex's all-tattooed skin, imagined a future for his 900 employees there, and took the plunge. 'Successful contemporary business happens where culture meets industry and entrepreneurism,' says Babinet. 'Our ambition is for Les Magasins Généraux to facilitate connection between varied industries to enable experimentation and serendipitous collaborations to develop and grow.' By taking over and sensitively renovating the premises, BETC is playing an important part in the Grand Paris project, by creating a strong cultural and commercial environment.

French architect Frédéric Jung and Paris-based design studio T&P Work UNit, who were both involved in the design of BETC's previous office in the 10th arrondissement, are again on board for the new challenge. Together with Babinet and the agency's art director Aurélie Scalabre, they decided the best option would be to maintain the authenticity of the building's industrial heritage while at the same time adapting it for a new type of creativity.

The former grain warehouse comprises two six-storey buildings of concrete and glass, providing a vast 20,000 sq m of floor space. The towering pillars and 1.4 km external walkways that wrap around each floor in both the east and west wings have been preserved, as have the original metal bridges that connect the two buildings. To serve contemporary needs, natural light has been brought to the interior from the open-air inner courtyard and the two patio wells. Wood and natural materials make up a huge contemporary insert within the complex, while more passages have been inserted to improve access around the buildings. On the top floor, a vast garden area has been created underneath a concrete pergola with two large mezzanines overlooking the canal.

Jung, who led the renewal of the complex, says, 'The conversion of this wonderful piece of industrial architecture offers space and light qualities, dimensions and new uses that no typical building programme could give to contemporary life.'

The inside of Les Magasins Généraux is a diverse social habitat. T&P Work UNit designed an open-plan office, divided into both individual and group workspaces. Catherine Geel, art director of the studio, asks, 'How do we see the evolution of the office environment? Do we have to be super-innovative, or do we also believe that there are classical tools that we all still need in a workspace?'

To answer her questions, a survey was carried out among all the staff to find out their needs and expectations, and up-and-coming designers were commissioned to make bespoke furniture to create a unique environment. Architect Jean-Benoît Vétillard, for example, designed the 'Luminous Box', a cube-like meeting room with colour temperature control, and the 'Cab' high-back seating unit for private conversations for two; Adrien Rovero's 'Gradins' are tiered rows of seating for presentations; communal work desks have been designed by Sophie Breuil.

Spearheading the development of the new neighbourhood, on the ground floor, the two buildings are linked by a glass hall that leads to the public square and from there to the canal, and shops and a large brasserie will open in early 2017. Les Magasins Généraux looks set soon to become part of the people of Pantin's daily life.
Derelict for more than a decade, Les Magasins Généraux became a magnet for graffiti artists from across the planet. Far from ordering their demolition when renovations began, BETC Paris set up Graffiti Général, an online site, providing a virtual 3D tour of the site, and commissioned photographers Yves Marchand and Romain Meffre to document the complex
Sustainability was an important consideration. The building self-regulates its temperature and solar panels provide clean energy. Facilities have been installed for bats, birds and insects to encourage biodiversity and beehives have also been brought from the previous office building. The rooftop garden grows a variety of vegetables and fruit to be used in the canteen and brasserie
Yoko Choy is the China editor at Wallpaper* magazine, where she has contributed for over a decade. Her work has also been featured in numerous Chinese and international publications. As a creative and communications consultant, Yoko has worked with renowned institutions such as Art Basel and Beijing Design Week, as well as brands such as Hermès and Assouline. With dual bases in Hong Kong and Amsterdam, Yoko is an active participant in design awards judging panels and conferences, where she shares her mission of promoting cross-cultural exchange and translating insights from both the Eastern and Western worlds into a common creative language. Yoko is currently working on several exciting projects, including a sustainable lifestyle concept and a book on Chinese contemporary design.