Atelier Oslo provides shelter at all angles with Cabin at Norderhov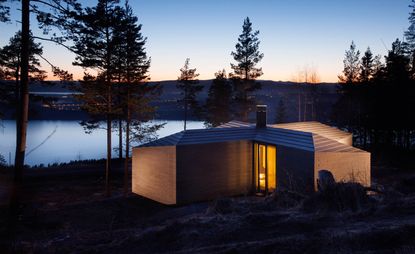 (Image credit: press)
A new cabin by Atelier Oslo within Norway's Krokskogen forest formed the striking backdrop to our 'Norse Power' shoot in the December issue (opens in new tab). Four angular 'arms' spring out of a main core, anchoring this home to a steep slope over Lake Steinsfjorden. Cabin at Norderhov provides both refuge from and connection to its woodland surroundings.

A couple based in Oslo commissioned the project, with a view to using it as a weekend base for cross-country skiing and hiking. The structure was designed in response to their relationship with nature. Its prefabricated system of laminated wood reflects the surrounding trees and is supported by steel rods drilled directly into the rock. Aside from dividing the internal space into discrete zones, the arms also accommodate covered terraces outside.
Take an interactive tour of Cabin at Norderhov
Inside the cottage is centred on its fireplace, the only electricity coming from two solar panels that power the reading lamps. While the fire burns at ground level, the smoke is caught by a mantel that hangs from the curved ceiling. This provides the feeling of a 'campfire in the landscape', according to Atelier Oslo co-director Nils Ole Brandtzæg. Visible from all points in the house, it signifies refuge from the harsh Norwegian winds.

The interior is clad in pale 4mm birch plywood. It forms the curved surfaces that step down the fall of the terrain, softening spatial transitions and expanding to become both wall and ceiling. The changes in level cleverly create folds that become places to sit and contemplate. Natural light and views from the expansive glazing flood the rooms, while smart detailing ensures the frame is concealed.

At Norderhov, the architects harnessed the environment to create a sanctuary with the same sensitivity that seeps into all their works. The young firm was established in 2006 but has been going from strength to strength. Its winning submission for the Deichman Library in Oslo, in collaboration with Lund Hagem Architects, is one of its larger, most anticipated projects, currently due for completion in 2016.