The Real thing: Gallery Archivo inaugurates new architectural series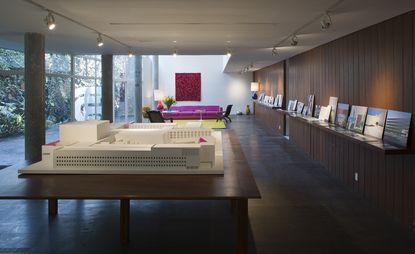 (Image credit: Ramiro Chaves)
Using Ricardo Legorreta's legendary Hotel Camino Real as its subject matter, the Gallery Archivo Diseño y Arquitectura – founded in 2012 in Mexico City by architect Fernando Romero and his wife Soumaya Slim – has revealed the inaugural offering of its brand new Archivo(s) series of architectural exhibitions.

Hotel Camino Real, created for the 1968 Olympic Games in Mexico City, was hailed as a refreshing and innovative construction, undeniably contemporary yet timelessly classic with an austere and elegant edge. Ultimately, it redefined the inner city hotel typology.

In this project, Legorreta erred away from the surrounding area's overwhelming trend for vertical construction, choosing instead to create a modernistic, spacious and close-to-the-ground environment for the guests. With finishing touches including a strategic placement of art and installations from contemporary masters such as Alexander Calder and Mathias Goeritz, the Real quickly cemented its reputation as an embodiment of modern Mexican culture.

Archivo(s) sets out to present a new approach to the display and discussion of modern architecture, calling on select archives and contemporary artists to initiate a dialogue around carefully chosen landmarks of Mexican modernism.

The exhibition, entitled 'Archivo(s) Hotel Camino Real', is curated by Guggenheim UBS Map curator for Latin America, Pablo León de la Barra, and approaches the Camino Real's vibrant and varied history from different angles. Presented via a series of documents, historic photographs, reproductions and a scale model – specially made for the event – the show resurrects the hotel's spirit by creating an 'immersive reconstruction' that blends Legorreta's legacy with work by contemporary artists including Mario García Torres and Lake Verea.
INFORMATION
'Archivo(s) Hotel Camino Real' is on view until 4 May. For more information, please visit Gallery Archivo's website
Photography: Ramiro Chaves, courtesy of Archivo Diseño y Arquitectura
ADDRESS
Archivo Diseño y Arquitectura
Calle General Francisco Ramírez 4
Miguel Hidalgo
Ampliación Daniel Garza
11840 Mexico City