Architecture update: Letter from Japan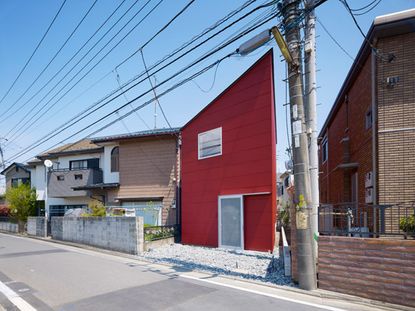 (Image credit: Toshiyuki Yano)
House in Seya, Kanagawa, by Suppose Design Office

Architect Makoto Tanijiri explores a new relationship between architecture and nature within the four closed walls of what looks like a red wooden shed in Kanagawa. He has 'removed' some of the architectural scale of the living spaces, instead adding it to the indoor garden, while at the same time blurring the boundaries between the two.

www.suppose.jp
Priorities have changed radically since we last took an in depth look at the Japanese architectural landscape. The country is now anxious to pull its economy out of a recession stemming from March's devastating Tōhoku Earthquake and tsunami, as well as the problems related to the stricken Fukushima nuclear plant. The natural disaster plunged the Asian nation, the world's third-richest economy, into its worst crisis since World War II, but widespread reconstruction works are now underway, with architects taking a key role in the most damaged areas, constructing temporary relief facilities as well as new sustainable master plans. The design community has also come to the fore, expressing its support with art, graphics and products in the hope of raising money.
Current power shortages have forced the Japanese to limit their energy consumption, a phenomenon that architects have picked up on as a new starting point of design. Fresh ideas on living 'the old way' (a traditional Japanese house was built to resists its souring hot summers without the use of air-conditioning) are characterising new designs and the architects are making a virtue of necessity. Here, we take a look at several of the small building projects that are currently sprouting up in the country, all of which have been designed with freshly environmentally conscious minds.
Static Quarry, Takasaki City, Gunma Prefecture, by Ikimono Architects

In Takashi Fujino's concrete Static Quarry, an eight-tenant apartment building in Takasaki City, daily life of the residents goes back and forth between the interior spaces and the relatively large open-air 'cavities'. The architect provided the outdoor rooms with running water and electricity and tenants are invited to tailor these spaces as private living rooms.
House in Kitakami, Iwate prefecture, by Yukiko Nadamoto

Yukiko Nadamoto has turned conventional house design inside out with this property. The main living areas are based on an abstract interpretation of a city street while the outdoor terrace is treated like an indoor room.
House with Eaves and Attic, Tokyo, but ON Design

ON design's House with Eaves and Attic sits atop a hill in Tokyo, facing a steep drop. The architects have preserved the vegetation of the plot by incorporating it into their design. To this end, the roof - which slopes at the same angle as the incline - is punctuated by trees.
Inside Outside house, Tokyo, by Takeshi Hosaka

Takeshi Hosaka's Inside Outside house comprises an enclosed core surrounded by an outer shell perforated with openings. With this naturally ventilated project, the architect hopes the clients will once more get in synch with the changing weather of the seasons.

www.hosakatakeshi.com
Little One-room House with A Curve, Nagoya, Aichi Prefecture, by Studio Velocity

The 41 sq m beauty shop designed by Studio Velocity compensates for its smallness with an eye catching exterior. From the tiny entrance, the shop slowly grows in height and width, at the same time as the light intensity increases. Architects Kentaro Kurihara and Miho Iwatsuki have ensured that the curvature is just shallow enough for one end of the space to be visible from the other.

www.studiovelocity.jp
Kumagai House, Sapporo, Hokkaido Prefecture, by Hiroshi Kuno + Associates

Hiroshi Kuno has shaken up a typical residential neighbourhood in Sapporo with unconventional proportions and unusual floor heights. His play with perspectives now leads to spontaneous contact with the neighbours and passers-by.

qno.jp
Branch House, Fukushima, by Kino Architects

Central to the plan of Branch House by Kino architects are the main living and dining areas. From here four rooms, including a master bedroom, a children's room, a guest room and a bathroom, branch out in four different directions, all taking advantage of the best natural light conditions. Meanwhile, an open loft above the rooms provides the residents (a couple and two children) with room to distance themselves from each other, as well as offers plenty of storage space.

www.masahirokinoshita.com
Receive our daily digest of inspiration, escapism and design stories from around the world direct to your inbox