Architecture News: Letter from Australia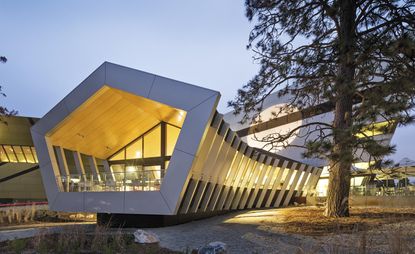 (Image credit: press)
Australia, home to the most urbanised population in the world, is experiencing a tectonic upheaval in its architectural landscape. Sydney, so long the city that exemplified world-class, innovative architecture (think the Harbour Bridge and Pritzker Prize winner Jorn Utzon's Opera House), has gone to war with itself over a proposed waterside multi-storey apartment/office complex and $1.5 billion six-star hotel and casino in Barangaroo. To be completed by 2018, Barangaroo's towers (designed by Wilkinson Eyre) will obstruct views of - you guessed it - the Harbour Bridge and the Opera House. Danish architect Jan Gehl recently quit the project, heightening the debate over whether the last patch of harbour front land should be commercially developed, while top Australian architect Philp Cox says the project 'doesn't contribute to the city'. Expect this debate to run.
See Australia's new wave of architecture projects
But Sydney is also welcoming another Pritzker Prize-winner's design to its skyline. A new University of Technology building by Frank Gehry, set for completion in mid-2014, looks set to become the city's second-most interesting construction (the Opera House will always be the city's quirky icon).
Down south, Melbourne is finally seeing the completion of a major overhaul of its city. Its small laneways, once dank and unpopulated, have been enlivened with small bars and restaurants, street art and edgy fashion stores. With the completion of the Sean Godsell-designed RMIT Design Hub building and the Swanston Academic Building by Lyons Architecture, the central city thoroughfare of Swanston Street can lay claim to being one of the world's great architecture streets. In the space of a few blocks Swanston Street boasts buildings by the late Japanese great Kisho Kurokawa, Adelaide architecture doyen John Morphett, young bucks Elenberg Fraser, master of fluid form John Wardle and the postmodernist wonder that is Peter Corrigan's RMIT Building 8. And 2001 Pritzker Prize-winners Herzog & De Meuron could join the architectural line-up if their design-competition-winning Flinders Street Train Station (corner of Swanston Street), with architects Hassell, is given the green light.
While Sydney bickers and Melbourne takes a well-earned rest, some surprising developments are happening in Australian cities that have long lay dormant. Adelaide, the birthplace of Australia's leading international architecture practices - Hassell, Woods Bagot and Woodhead - is leading the way when it comes to urban redevelopment, with a smart new grid of bicycle lanes, hip little bars and a fresh approach to city regeneration led by young mayor Stephen Yarwood, who counts urban planning among his passions. All major new building proposals in the city of one million are now vetted by a most unbureaucratic government architect, Ben Hewett, whose remit is to ensure top quality for Adelaide's new architecture.
Adelaide's new buildings, including a brand-new hospital and cricket stadium, line up next to some impressive modernist city structures including a bunch of Bauhaus- and Walter Gropius-infuenced buildings designed in the 1970s by Hassell, led at the time by Gropius student John Morphett. The future of the city is in good hands as well, with Mirai Morita from Tokyo's Atelier Bow Wow joining Adelaide University's architecture department in 2014. A specialist in residential architecture, Morita will have an eye on efforts currently underway to repopulate the city centre.
Out west, an unquenchable demand for minerals has seen Perth transformed from a big country town into a world-class city in the past 15 years. Western Australia's vast mineral resources saw the global financial crisis bypass Perth. Its citizens - of which about 35,000 notch up thousands of air miles commuting to their jobs at far-flung mines - are comfortable, and its decade-long building boom is only now starting to slow. Today, the Perth skyline is a stunning mix of old and new. The modernist 1963 Council House; QV.1 by Austrian-born modernist Harry Seidler; and the brutalist Perth Concert Hall have been joined by the jaw-dropping State Theatre Centre by Singapore's Kerry Hill, the jigsaw-like One40William tower by Hassell; and CitySquare by Hassell and Fitzpatrick + Partners.
And Hobart, the small capital of Tasmania, is punching well above its weight. Privately owned gallery MONA (Museum of Old and New Art), designed and overseen by architect Nonda Katsalidis of Melbourne firm Fender Katsalidis, has attracted the design-savvy dollar. And chic new bars, diners and retailers are riding a MONA-led wave of design- and art-led tourism.
Adelaide, Perth and Hobart in particular provide intriguing urban-renewal templates and have created a dynamism that urban centres across the nation will surely try to replicate.
Receive our daily digest of inspiration, escapism and design stories from around the world direct to your inbox