Architects Directory Alumnus: Grafton Architects
The Wallpaper* Architects Directory has turned 20. Conceived in 2000 as our index of emerging architectural talent, this annual listing of promising practices, has, over the years, spanned styles and continents; yet always championing the best and most exciting young studios and showcasing inspiring work with an emphasis on the residential realm. To mark the occasion, in the next months, we will be looking back at some of our over-500 alumni, to catch up about life and work since their participation and exclusively launch some of their latest completions. Ireland's Grafton Architects was featured in the magazine's first ever Architects Directory, in 2000, and has since grown exponentially in architectural output and influence, becoming, amongst other things, one of the world's go-to studios for inspiring education buildings. Here, we look at their School of Economics at Université Toulouse 1 Capitole in France.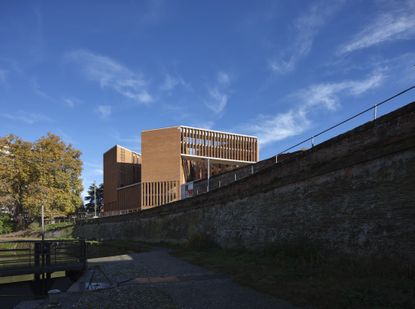 (Image credit: Dennis Gilbert)
'We believe in architecture even more now!' implore Yvonne Farrell and Shelley McNamara, the two co-founders of Irish studio, Grafton, while reflecting on where their practice was when Wallpaper* last profiled them in 2000. Back then, Grafton was 22 years old and still only beginning to populate Dublin with small, carefully crafted architectural moments.

'[We wanted] to set up a structure in which as good a work as possible could be done,' the pair says, outlining what they initially wanted to achieve when they founded Grafton. 'Changes do happen over time… the building industry changes, the craft of building comes under pressure, the form of contracts gets more complex, etc. etc., but in the end what architects gift to the world is spatial invention, a new reality, to hold complexity, capture light, hold sound, hold life, make life pleasant, form a new community, make an elegant window, make legible connections. It's an amazing profession: it has a huge responsibility, a huge capacity; it's a form of magic!'

Today, Grafton is a practice whose magic has spread to South America and across Europe. But while its recognition and influence has grown, the firm only employs 36 from its office in Dublin — an indication of Farrell and McNamara's desires to stay grounded. The firm has also made a name for itself in the education sector: initially with the Department of Mechanical and Manufacturing Engineering at Trinity College Dublin and later with landmark projects such as the School of Economics at the Universita Luigi Bocconi, Milan and the UTEC university campus in Lima.
'We have always loved being involved in making educational buildings – primary schools, secondary schools as well as universities. What is important about universities is that they are places which liberate the mind. They add to culture, both at an individual and at a collective scale.'

The latest in this line of buildings is another school of economics, this time in France at the Université Toulouse 1 Capitole. Echoing Lima and Milan, Grafton has employed weighty, solid forms to produce a building rising seven storeys high and abounding in spatial drama — concrete and brick being the primary materials that create corridors in the sky overlooking the Canal de Garonne and thick, 'deep walls' that facilitate natural ventilation without the need for fenestration.

'Our main ambition was to make a contemporary building which evolved out of the sensual beauty of that brick city,' said Farrell and McNamara. 'What we hoped to achieve was that the building would enclose the community of scholars, encouraging overlap within its spaces, framing connections back out to the city, making each scholar more aware of the elements of the city of Toulouse […] the buttresses, the walls, the ramps, the cool mysterious interiors, the cloisters and the courtyards.'

This year, Grafton was awarded the Royal Institute of Architects' Royal Gold Medal — the institution's highest accolade. The practice shows no signs of slowing down either. Projects in London (one, another university building for the London School of Economics), Dublin, Cork and Arkansas are all in the making — all set to be sprinkled with that Grafton magic.
MORE FROM WALLPAPER* ARCHITECTS DIRECTORY 2020
INFORMATION
Receive our daily digest of inspiration, escapism and design stories from around the world direct to your inbox