Architects Directory Alumnus: Nanjing Zendai Himalays Center by MAD
The Wallpaper* Architects Directory has turned 20. Conceived in 2000 as our index of emerging architectural talent, this annual listing of promising practices, has, over the years, spanned styles and continents; yet always championing the best and most exciting young studios and showcasing inspiring work with an emphasis on the residential realm. To mark the occasion, this summer, we will be looking back at some of our over-500 alumni, to catch up about life and work since their participation and exclusively launch some of their latest completions. In the space of the 13 years since their participation in the Architects Directory in 2007, Chinese architecture firm MAD, headed by Ma Yansong, has become an international powerhouse with projects ranging hugely, both in scale and geographical location. Here, we visit their latest, nature-inspired, mixed-used development Nanjing Zendai Himalayas Center.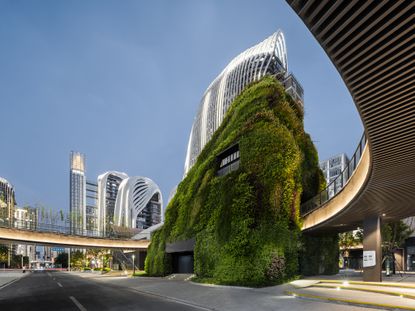 (Image credit: CreatAR Images)
A metropolis-scale development covering some 560,000 sqm at the heart of China's eastern Jiangsu province, the Nanjing Zendai Himalayas Center is an urban habitat comprising commercial buildings, hotels, offices and apartments set alongside the city's high-speed railway route.

Having served as the capital of several Chinese dynasties, Nanjing still holds a prominent place in the nation's culture. Led by Ma Yansong of MAD Architects, the design is envisaged within the traditional Chinese ethos of 'Shanshui (mountain-water)', a painting style as well as a vehicle for Chinese philosophy. 'We want the space to convey the traditional values of Nanjing in a new urban experience that blends with nature,' explains Ma. 'Traditional Chinese urban architecture is relatively small in scale and encompasses natural landscapes; there is no natural landscape around this development, so we have to use the buildings themselves to create it.'

Thirteen mountain-like structures that seem to have been formed from wind and water frame the site. They are characterised by ridges and curved white glass louvres that cascade like waterfalls in a manifestation of the surrounding mountain ranges and meandering rivers. Real water features, including pools and waterfalls, connect the buildings while trees and flora merge the manmade and natural environments; with abundant light and airflow, they create a tranquil ambience in the middle of the city. 'Seen from a distance, the buildings create a canyon surrounded by peaks and the public space is like a village nestling under the mountains. The constructions in the 'village' are on a small scale which people can relate to,' says Ma.
Currently in its third and final phase of construction, the project is expected to be completed this year. 'I believe this project will inspire the public, but at the same time it is an experiment,' says Ma. 'Modern Chinese cities have become standardised: spaces are defined by roads and divided into plots covered with buildings and an insignificant amount of greenery. We are surrounded by concrete blocks in urban settlements and it's very important to me to change this.' He adds, 'Although we can't build nature, we can still find a way to create a dialogue between the city and the natural world.'

MAD was selected for Wallpaper's Architects Directory in 2007. At around that time, Ma was creating many fantasy proposals, such as 'Beijing 2050' and 'Superstar: A Mobile China Town'. 'Architecture should be imaginative and should provide space for discovery,' he says. In the 13 years since then, the team has successfully realised its dreams both in and outside of China. The Harbin Opera House in north-east China, completed in 2015, showcased an unconventional way to promote cultural development in the country and led to many landmark projects around the nation, including the ongoing mountainous earth-sheltered building complex Quzhou Sports Campus; the glass-sails themed Yiwu Grand Theater; and Shenzhen Bay Square waterfront zone.

The two headline projects abroad, the Lucas Museum in Los Angeles and Rotterdam's Fenix, which are currently under construction, prove that there are no boundaries to MAD's creative visions. 'That fact that our ideas can be of value today is what makes our work meaningful. It shows that the world welcomes new ideas and we should be even more forward-looking during the next 20 or 30 years,' says Ma.
MORE FROM WALLPAPER* ARCHITECTS DIRECTORY 2020
INFORMATION
i-mad.com
Receive our daily digest of inspiration, escapism and design stories from around the world direct to your inbox
Yoko Choy is the China editor at Wallpaper* magazine, where she has contributed for over a decade. Her work has also been featured in numerous Chinese and international publications. As a creative and communications consultant, Yoko has worked with renowned institutions such as Art Basel and Beijing Design Week, as well as brands such as Hermès and Assouline. With dual bases in Hong Kong and Amsterdam, Yoko is an active participant in design awards judging panels and conferences, where she shares her mission of promoting cross-cultural exchange and translating insights from both the Eastern and Western worlds into a common creative language. Yoko is currently working on several exciting projects, including a sustainable lifestyle concept and a book on Chinese contemporary design.
With contributions from