Architects Directory Alumni: Island Rest by Strom Architects
The Wallpaper* Architects Directory has turned 20. Conceived in 2000 as our index of emerging architectural talent, this annual listing of promising practices, has, over the years, spanned styles and continents; yet always championing the best and most exciting young studios and showcasing inspiring work with an emphasis on the residential realm. To mark the occasion, this summer, we will be looking back at some of our over-500 alumni, to catch up about life and work since their participation and exclusively launch some of their latest completions. Island Rest is a contemporary, low, modernist-inspired, black timber-clad family holiday home on the Isle of Wight, courtesy of 2012 Wallpaper* Architects Directory alumnus Magnus Strom.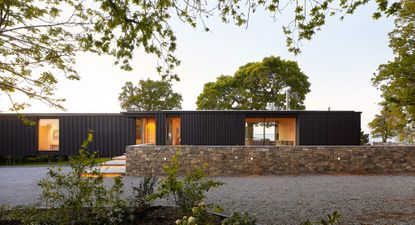 (Image credit: Hufton + Crow)
Since Swedish-born UK-based architect Magnus Ström set up his eponymous firm in 2010, his client-base and portfolio has been steadily expanding yet the ethos at the heart of his practice remains the same. In 2012, when Wallpaper first highlighted his practice in the Architect's Directory, he explained, 'the client and the site or environment inspire our designs and how we create spaces. We seek a holistic and tectonic approach.'

This approach is evident in the firm's latest project – a holiday home set on the waterfront on the Isle of Wight. Overlooking a creek with views of the Solent beyond, Island Rest is a secluded and understated retreat with direct access to the water.
The building, Ström says, was designed so that it almost disappears into the tree-dotted landscape thanks to its low, linear profile and larch timber cladding. The plan is divided into two parts – a generous oak-wrapped living area and master bedroom on one side, and a bedroom 'wing' on the other, which is cantilevered above a flood plain. The home is carefully orientated to the north so as to frame the spectacular sea view through generous sections of full-height glazing. Sloping overhangs open the house up to the sky and bring in as much light as possible to the north, while a sheltered, south-facing courtyard at the back of the house provides a spot for outdoor dining.

'When you set up a practice, you start off really ambitious but also quite naive; you learn a lot along the way,' says Strom, reflecting on the last ten years and his firm's growing portfolio of simple but show-stopping residential properties.

'After a while, everything settles down a bit and who you are and what you do well begins to crystalise. For us, we realised that what we did really well was one-off houses and in the last few years that's become who we are. Being niche has worked out really well for us.'

As a result Ström Architects has received recognition in the form of multiple award nominations and wins. In particular the firm's project, The Quest, was shortlisted for RIBA's House of the Year in 2017 and won five other awards including The Sunday Times British Homes Awards. Currently, the 8-strong team is flat out working on houses in Barcelona, New Zealand, the USA and Sweden.
MORE FROM WALLPAPER* ARCHITECTS DIRECTORY 2020
INFORMATION
stromarchitects.com (opens in new tab)