Twisted logic: architect Eduardo Brito brings a golden spiral to this brave bolthole in Brasilia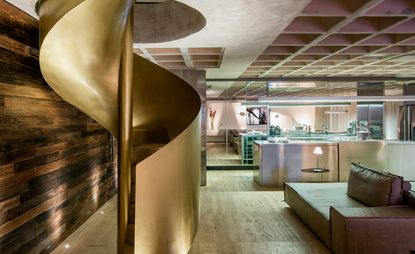 (Image credit: Nelson Kon)
Naturally, in the circumstances, I expected something a little bit curvy. Brasilia, after all, is no friend of the straight line. This first-floor apartment, in the affluent north-east of the city, is the work of Eduardo Brito, a young local architect who cut his teeth on Niemeyer's PGR government building in the Brazilian capital, which consists of two glass-plated circles suspended from a concrete web. 'My job was to do some of the internal spec, which like so many of Niemeyer's buildings, drove the contractor absolutely crazy because there were no straight lines and literally hundreds of offices,' he recalls. 'Everything had to be done individually.'

To be an architect in Brasilia, to drive as Brito does every day to his office down the vast Via Leste, past the Congress Building and the Cathedral and the Palace of Justice and the Itamaraty Palace and the many anthologised treasures of Brazil's greatest architect, is to understand what casting a shadow really means. In this planned city of wide-open vistas and parks, Niemeyer's buildings don't so much dominate the landscape as possess it completely.

Today, Brasilia is comprised architecturally of the vast (and, it has to be said, the variable) Niemeyer legacy – his work and that of followers. But there are one or two splutters of Soviet rationalism that no planned city should be without. Close your eyes for a second after taking in Pinto's Central Bank and you could be in a model city on the Soviet tundra. And then there is the rest, largely a greige exurban cluster of unremarkable buildings thrown up for the Olympics or the World Cup or for the endlessly replicating government departments that are such a feature of modern Brazil. But this is Niemeyer's city still.
Brito recalls that the only one of his university tutors who expressed even a mild ambivalence about the master's work was treated like an eccentric aunt whose views were so indefensible as to be almost charming. Brito himself was born in Brasilia and is a fan, of course, especially of the prime works, but his favourite building in town is the often-overlooked bus station by Lúcio Costa. You get the feeling he half wishes the brutalist architect Vilanova Artigas had won the competition to design the city instead of Niemeyer.

In any case, we are standing in the apartment he has just completed for Flávio Cadegiani, at 31, already one of the most sought-after endocrinologists in the city and a professed design nut. We are talking about São Paulo modernism and the kind of straight-lined rigour that doesn't seem at all reverential to the spirit of this particular place, the sinuous white celebration of Brazilian confidence and sensuality. The apartment is elegant and, for Brasilia, resolutely unshowy.

'It's true,' Brito says. 'The most common reaction we have had from people who have visited is simply this: "It's very nice, but when are you going to finish it?" I guess there isn't much of an appetite for conceptualism here after all. We are all spoiled by Niemeyer's seductive vision.' At the heart of Brito's design (and perhaps of visitors' concern for the completeness of the project) is the decision to route the electrical cabling under the floor, strip out the false ceiling and leave its bare structure uncovered.

The floors, similarly, are untreated travertine, which is used on both levels, along with black Turkish marble in the bedrooms and dressing room, and steel for the kitchen and bathrooms. In the living room, one wall is lined with wood from 200-year-old houses in Minas Gerais, while the furniture is a mix of Brazilian classics old and new: Sergio Rodrigues armchairs, a Zalszupin drinks cabinet, a Campana Brothers armchair and side tables by Jader Almeida. The dining table is by São Paulo architect Arthur Casas and the leather living-room divans by Marcus Ferreira. Cadegiani estimates he spent the same $150,000 on the furniture as he did on all the marble. The total budget was $600,000.

'Most Brazilians, if they spent that kind of money, would want something flashy, certainly of my parents' generation,' says Cadegiani, 'but I get the sense that is changing. It is now a legal requirement to employ an architect or engineer if you are remodelling a house in this country, after a terrible accident in Rio where a building collapsed because people were removing all kinds of structural elements to make more space. I knew Eduardo and I knew we thought in a similar way about architecture. For me, what is important is that the space is column-free and simple. I don't want the architecture to make a statement about anything.'

That's not to say that the pair resisted every one of Niemeyer's trademark flourishes. There is the staircase, a spiral metal unit that gives definition to the living space and the installation of which required a crane and the removal of the entire bank of windows. 'OK, I will admit I lost that battle,' laughs Brito. 'I wanted it left in steel, perhaps a matt silver finish at most. But Flávio ordered this gold metallic paint from the States and in the end I just went with it. We are in Brasilia after all, so maybe it is OK to do one curvy thing with a bit of a flourish.'

As originally featured in the April 2017 issue of Wallpaper* (W*217)
INFORMATION
For more information, visit the EB Arquitetos website (opens in new tab)