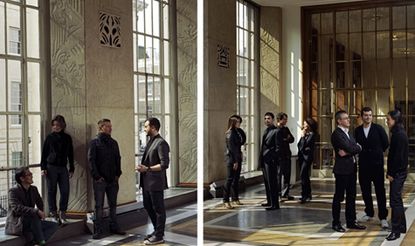 (Image credit: press)
For 20 years Antonio de Campos has been making and producing Zaha Hadid's artworks and is firmly entrenched in her inner sanctum. He studied architecture in Brazil, but now works as an artist and filmmaker and divides his time between Frankfurt and London.
What are you currently working on?
A few art pieces for Zaha which include a sequence of paintings about the Beethoven Symphony Hall and paintings about London's Aquatic Centre, an office building in Durango in Spain and the Louis Vuitton store in Macau. I am also making a 3D childrens' movie with an ecological theme based on the Amazon.
How has being Brazilian shaped your aesthetic?
I think we Brazilians see more detail than Europeans usually do as we have such intense light for 12 hours a day, every day. I certainly think my sense of colour has helped me.
What do you make of the architecture scene in Brazil?
When it comes to design and fashion, Brazil plays on an international level, but contemporary architecture is disappointing. Post-crisis, it's very commercial; it seems everyone who graduates in architecture today becomes a property developer, designing clone projects that are repeated a thousand times. To my mind, the design of the Olympic Village in Rio, to be built for 2016 by BCMF architects, is ludicrous - a shame for a country with such a rich architectural history.
Do you plan to return to Brazil one day?
I haven't lived there for 20 years and I miss it, but I'm building a beach house in a stunning fishing village called Diogo in Bahia where I'm from, so I'll get to spend longer periods in the sun.
Emma O'Kelly is a contributing editor at Wallpaper*. She joined the magazine on issue 4 as news editor and since since then has worked in full and part time roles across many editorial departments. She is a freelance journalist based in London and works for a range of titles from Condé Nast Traveller to The Telegraph. She is currently working on a book about Scandinavian sauna culture and is renovating a mid century house in the Italian Lakes.