A new NLA project proposes solutions for London's housing problems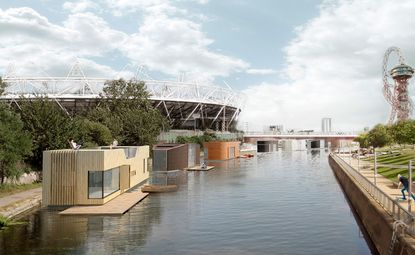 (Image credit: Baca Architects)
Floating homes and the reinvention of suburbia could help solve London's housing shortage. These are two of the winning ideas put forward for the New Ideas for Housing (opens in new tab) competition.

The ten winners, along with 90 other finalists, are on display at the New London Architecture gallery (opens in new tab). It's a timely show: lack of supply of housing is pushing up prices of land and housing, 'so that homes in central London are unaffordable to all but the very rich,' says NLA chairman, Peter Murray.

These out-of-the-box concepts highlight the fact that current thinking is not cutting the mustard. So why not build 7,500 affordable units on the capital's canal network, say Baca Architects, and turn 'generation rent' into 'generation float'. Alternatively, CZWG has earmarked a host of leftover plots between existing buildings, which would improve densification, if developed.

Yet more densification could be achieved by building housing on top of existing public buildings, suggests WSP| Parson Brinckerhoff. They've calculated that 630,000 new homes could be delivered - perhaps to the building's staff, which would cut out their commute. 'The private sector would refurbish or fully rebuild a hospital, library or school,' say the architects, 'paid for by adding several floors of apartments above the new facility that could be rented or sold.'

Lack of density is most acute in the suburbs, which is where HTA Design LLP proposes Supurbia. The scheme would allow 'owner-occupiers of semi-detached homes to develop their land, creating rich diversities of housing,' say the architects. 'Perhaps the key message that emerges from the bulk of the entries is that the volume house builders cannot solve this crisis,' says Murray, 'we need a wider range of players involved including community builders, self builders, local authorities, smaller developers and local groups who can seek out the myriad gaps in London's infrastructure and build on them.'

100 of the entries to the competition will be on display in the New Ideas for Housing exhibition at the NLA Gallery from 15 October in central London.
INFORMATION
New Ideas For Housing
15 October - 17 December 2015
ADDRESS
NLA
The Building Centre
26 Store Street
London WC1E 7BT
VIEW GOOGLE MAPS (opens in new tab)