VILELA FLOREZ
WALLPAPER* ARCHITECTS' DIRECTORY 2019: After working together on projects at Herzog & de Meuron, Mariana Vilela and Daniel Fernández Flórez set up their own studio in Brazil, in the small seaside town of Tibau do Sul, in 2014. Their projects, such as Casa Bambu (pictured), are mostly inspired by nature, relationships with local artisans, and indigenous materials.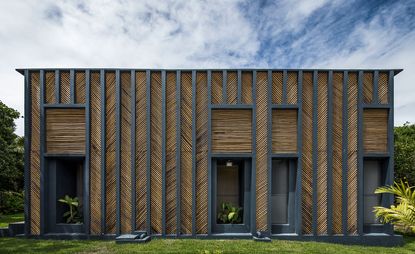 (Image credit: press)
Casa Bambu, Pipa Beach, Brazil, designed by Vilela Florez, selected for Wallpaper* Architects' Directory 2019 (opens in new tab)
Most architects in their prime will usually gravitate towards the big smoke where there, presumably, will be greater prospects for major commissions. Mariana Vilela and Daniel Flórez did the reverse, trading their posts at Herzog & de Meuron's Basel headquarters for a fishing village in an undeveloped part of north-east Brazil.

The move though, has allowed them to think more deeply about the relationship between architecture, local artisans, sustainability and local materials – an algorithm that very much informs the projects of their studio, Vilela Flórez. The architects say the clearest expression of this approach to date is the Casa Bambu, an extension of an existing home in Pipa Beach, in Brazil's Rio Grande do Norte.
Here, bamboo was the material of choice for both its rapid growth and its structural resistance. 'It's one of the most sustainable natural materials,' the architects say. 'In Brazil you can find easily bamboo but very few companies are investing in their treatment and protection in order to preserve the material against climate and insects.'
The clients, a couple who spend most of the year on a sailboat gliding across the Mediterranean, wanted comfortable, unpretentious living areas where they would relax and host outdoor lunch parties. To that end, Vilela and Flórez conceived a rectangular volume of herringboned bamboo panels, eucalyptus and Portuguese mosaic stone to which they attached a rough-hewn gazebo. 'We oriented the main openings toward the east and the prevailing winds, and protected the interiors from the strong sun.
The idea to have a ventilated bamboo façade came from the fact that there are no surrounding elements to shade the whole envelope. With this feature, the whole building is much cooler from the constant breeze, requiring minimal use of air conditioning.' In every respect, the architects say, Casa Bambu reflects a bias towards local elements and constructive solutions, while pushing design boundaries. 'It's all about a fresh approach and reinterpretation of local and traditional values in a contemporary way.'
INFORMATION
vilelaflorez.com (opens in new tab)
WALLPAPER* ARCHITECTS' DIRECTORY 2019 (opens in new tab)
Daven Wu is the Singapore Editor at Wallpaper*. A former corporate lawyer, he has been covering Singapore and the neighbouring South-East Asian region since 1999, writing extensively about architecture, design, and travel for both the magazine and website. He is also the City Editor for the Phaidon Wallpaper* City Guide to Singapore.