Over the rainbow: Victoire de Castellane reveals La D de Dior 'Granville' watches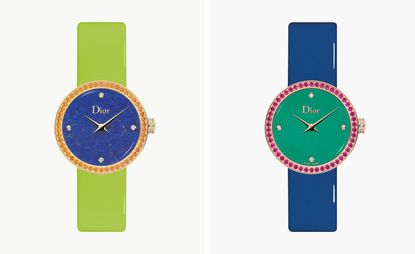 (Image credit: dior )
The use of bold colours in the ladies' fine watch market has always erred on the side of caution, as if bright rainbow splashes should be reserved only for more throwaway propositions. Of course, colour exists (particularly in jewellery watches) with exquisite enamel painting, or washes of paved gems – all rather tasteful, balanced and conceived. Very occasionally brands move away from the safe blacks and browns, or the sickly pinks; in 2015, Montblanc were brave enough to produce a strap with the two pieces of leather in completely different colours. Which hardly sounds revolutionary, but for a colour-shy industry it was – and still is – one of the more unusual offerings.

So it comes as no surprise that it takes a jeweller to shake it up a bit (and one that revels in a varied palette like no other, no less). Victoire de Castellane is known for mixing candy brights with a child-like abandon, which makes her latest reference point of Monsieur Dior's childhood seaside home in Granville, Normandy all the more fortuitous – and fruitful. It's known that Dior looked back fondly on this period in his life and the freedom he was afforded while playing with friends and exploring the richly cultivated gardens, all helpfully viewed through the sunshine lens of childhood nostalgia.

De Castellane has aimed to capture this in a capsule 'Granville' collection of 12 one-off gems and nine watches – the edit is small, but then the oeuvre of both watches and jewellery is to capture an emotion and a memory, rather than to delve into any narrative or specifics.

Unsurprisingly, she does it rather well, the watches comprising the shot of technicolour that the female timepiece market so desperately needs. The basic shape is the cute-as-a-button 'La D de Dior', with a case size ranging from a petit (and definitely 'cocktail') 19mm to a larger 38mm. The dials are then formed from either mother-of-pearl in the most subdued iteration, or vivid slices of hard stone – like turquoise, jade, lapis-lazuli, chrysoprase or the richly purple and rarely used sugilite. Bezels are adorned with gemstones – orange spessartite garnets clash happily with lapis dial, bright pink sapphires with vivid green chrysoprase.

The finishing flourish comes in the form of a patent strap, as shiny and enticing as sweet wrappers in sunshine yellow, mauve, pink and pistachio green. Yet for all the varying tones and rainbow hues, de Castellane's ability to successfully mix shades that wouldn't normally be juxtaposed remains the forte of her collection, a standout in a watch world that appears reticent and colour-shy in comparison.
INFORMATION
For more information, visit Dior's website (opens in new tab)