Indian jeweller Lai brings miniature painting to life
Lai uses the ancient technique of miniature painting with a contemporary edge for new jewellery collection 'The Miniaturist'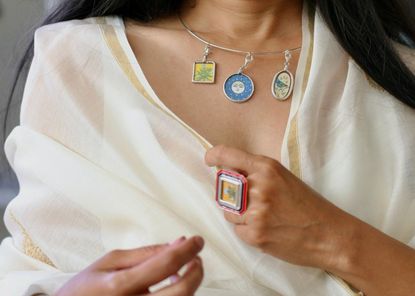 (Image credit: press)
Lai, the India- and California-based jeweller, has collaborated with artisan clusters in India to create new a contemporary jewellery collection, 'The Miniaturist'. Created using intricate silversmithing techniques from Jaipur, the exquisite pieces meld historic references using age-old miniature painting traditions of Rajasthan. Each design, thoughtfully refined, was made in collaboration with two of the few remaining chitrakars (traditional artists) who specialise in miniature painting for jewellery.
Miniature painting as jewellery
The skill of miniature painting can be dated back to the Mughals around 460 years ago. However, unlike the Mughal style, which was primarily aristocratic and secular, the art of painting in Rajasthan was deeply rooted in Indian religious texts, folklore, love poems and musical themes.
Made using the techniques and skills that have been employed since the 16th century, 'The Miniaturist' collection is intended to pass on 'the stories of the artists, the art, and its traditions', says Lai's founder Puja Bhargava Kamath. She feels that the growth of jewellery making in India 'has been largely dumbed down to making quick, convenient, and unimaginative versions of formulaic designs'. Lai is challenging this protocol, she adds, by 're-looking' at some traditional crafts from a global perspective.
'We believe, as a bi-continental brand, together with our artisan collaborators, we're in a position to create truly unique and globally marketable products. Not museum copies, not cheap me-toos but something fresh, something current, something clearly and proudly from India – but that which the world could adopt.'
The art of miniature painting has been remarkably unchanged to this date, with the artist using superfine brushes produced from the hair of a squirrel's tail, while the base is a locally produced, handmade paper. The intricate process comes with its challenges – every time the artist mixes colour for a new batch, the colour tones could change. 'Staying true to the sample/photographed design in terms of colour and artwork is very difficult,' says Kamath.
INFORMATION