Simone Faurschou's jewellery is inspired by human connection and isolation
The young designer's new line Pangea is inspired by togetherness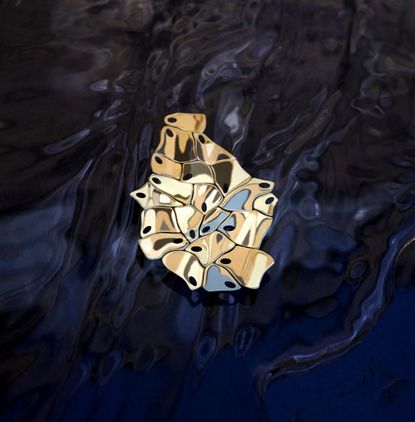 (Image credit: simonefaurschou.com)
Pangea – the ancient supercontinent that once existed many millions of years ago when all the continents as we know them today were joined together – is the inspiration for Simone Faurschou's new jewellery line. 'Pangea was a time where the world was less fragmented and all continents were still one large piece of land,' says the designer, speaking from her London studio.

Moreover, Faurschou is drawn to the human connectedness that a singular landmass evokes, something that has been pertinently lacking for many this year. 'Humans are born wired for connection – it's in our DNA, as strong a need as food, water and warmth. Social connection has been proven to lower anxiety, as well as depression, and when we experience human connectedness as individuals, it helps regulate our emotions and our immune systems even improve.'
Although in the nascent stages of her career, Faurschou has a solid jewellery pedigree having studied jewellery design at Central Saint Martins and most recently was the head of design at Completed Works. To launch her new line, the poet Wilson Oreyma created a poem for her called 'Pangea'.

She calls each piece in the collection a 'fragment'; a small, delicate slice of polished gold that can be hung from a necklace chain or an earring hoop. 'The fragment is a talisman and reminder of the great value of universal human connectedness,' she says. 'I decided to name each fragment "connectedness" in multiple languages from across the world: 'Motassel' means connectedness in Serbian; 'Forbundethed' in Danish; 'Umoja' in Swahili; 'Altarabut' in Arabic. Language connects us, and is part of what makes us human and distinguishes us from other species, and has also evolved since the beginning of time.'

With the earth's longevity being so central to her design inspiration, it followed that its preservation should be equally as considered. 'I did a lot of research before setting up my business. In a world full of over-consumption, I wanted to create timeless pieces without compromising people and the environment. I wanted 100 per cent supply chain traceability first of all and this led me to become a proud Fairmined licensee. Fairmined is an incredible organisation and international assurance label that certifies gold from responsible artisanal and small-scale mining organisations. It is a way of ensuring that the precious metals are mined and processed in ways that are socially and environmentally responsible,' she explains.

Faurschou plans to expand the line with designs for a bracelet, ear cuffs, earrings and rings. She is also working on a bridal jewellery line, and customisation with birthstones and engraving. 'Human connectedness is such a powerful universal need and the Pangea collection was created to spread this message,' she says.
INFORMATION
simonefaurschou.com (opens in new tab)
Tilly is a British writer, editor and digital consultant based in New York, covering luxury fashion, jewellery, design, culture, art, travel, wellness and more. An alumna of Central Saint Martins, she is Contributing Editor for Wallpaper* and has interviewed a cross section of design legends including Sir David Adjaye, Samuel Ross, Pamela Shamshiri and Piet Oudolf for the magazine.