Gold standard: Patrik Hansson shows his geometric wares at The Jewellery Room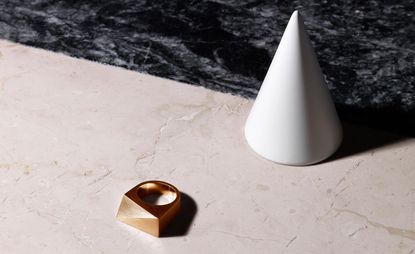 (Image credit: Patrik Hansson)
A former church in the centre of Copenhagen's old town houses a pop-up showroom where fledgling Scandinavian jewellery labels rub shoulders with the likes of Georg Jensen and Ole Lynggaard. The space is an initiative known as The Jewellery Room, established in 2013 with the humble notion that jewellery is deserving of a dedicated platform during Copenhagen Fashion Week.
One of the aforementioned fledgling labels is Patrik Hansson Jewellery, the eponymous line of a softly spoken young designer from Uppsala, Sweden. Hansson's grounding in graphic design is immediately evident in the beautifully restrained geometric forms of his striking gold designs. 'I love the elegance and beauty of gold,' he says, reflecting on his metal of choice. 'In my opinion, it doesn't have to be overly decorated – its beauty will speak for itself.'
Following his studies at Stockholm's esteemed Beckman's College of Design, Hansson established his own studio and was soon taking commissions from pioneers of classic Scandinavian furniture design, Karl Andersson & Söner. After several years, he furthered his studies in silver and goldsmithing and everything else, he says, is self-taught. 'I had a desire to work with my hands, rather than being in front of a screen all day,' says Hansson of the decision to shift his focus towards craftsmanship.
Hansson's transition from experimental jewellery designer to viable commercial enterprise has been as organic as his designs. After exhibiting at a Swedish jewellery fair in late 2014, he picked up several retailers across Scandinavia, and now has his first stockists outside the region: a gallery in Glasgow and another in Dublin. His sights are now firmly set on the UK, where he wants to continue to share his design philosophy with 'women who seek well-made pieces with a tone of understated, timeless elegance'.
His sentiments are as Scandinavian as his aesthetic. He celebrates squares, circles and loops – 'I work a lot with the basic geometric shapes' – and at first glance his pieces look incredibly simplistic, where considered details emerge upon closer inspection. 'I rely on lines and cuts to creates new surfaces, shapes and levels,' he explains. Take, for example, the 'Loop Earring': the front implies a simple drop, but with the slightest movement, a loop appears as if suspended between dimensions. 'For me, it's a source of endless possibility and continuous experimentation,' says Hansson. No matter the medium, good design certainly seems to be his forte.
INFORMATION
For more information, visit Patrik Hansson's website (opens in new tab)