Mikimoto unveils new high jewellery collection
Mikimoto's new jewellery collection nods to the passing of the seasons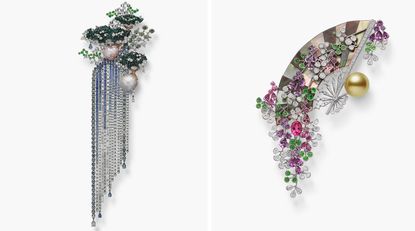 (Image credit: Mikimoto)
Inspired by the alluring scenery of Japan, Mikimoto translates the changing of the country's seasons into a new collection of high jewellery pieces. More than a century after the company's founder created the world's first cultured pearl, in 1893, Mikimoto's emphasis on exquisite craftsmanship intertwined with modern design continues.

The new collection 'blossoms' in a short film starring Japanese supermodel Ai Tominaga.

Beginning in the spring, a nod to Japan's ukiyo-e art movement is brought to life through a brooch that expresses the energy of a waterfall running rapidly with melting snow. The refined column of water and the luminous green of the pine trees capture the ephemeral beauty of Japan's floral season.
A play on the intricacies of nature and its patterns runs throughout the collection, reflected in the akoya cultured pearl necklace and earrings framing a stylised wave pattern. The mystical glow of opals evokes sensuality and adds a layer of rich texture to the high jewellery.

An acceptance and appreciation of natural beauty runs throughout the collection, says general manager of the merchandise development department, Mr Haga. 'As a jewellery brand founded in Japan, we created these pieces in pursuit of expressing this essence of the Japanese sense of beauty. Capitalising on this idea is the fan brooch – assembled with three motifs: a fan, the moon, and the Japanese bush clover.'

With its sculptural forms, the collection nods to both historic methods of high jewellery and a contemporary vision. Mikimoto designers, for example, traditionally draw with ink and fine-point brushes, because, says Haga, 'ink does not deteriorate for a long period of time, and using fine-point brushes allows the designers to express intricate details'.

It's a process referenced in a necklace and earrings from the new collection, inspired by the bokashi blurring technique in ink painting. At the same time, the company embraces computer-aided design to fully explore the potential of pearls. Here, the approach makes for a timeless take on Japanese beauty.
INFORMATION