Space cadets: MAD Gallery's latest madcap mechanics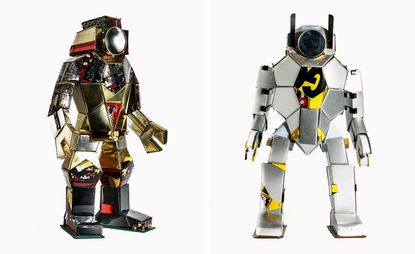 (Image credit: press)
Max Büsser and the gang at MB&F have 'form' with robots: the company has dazzled with Sherman and Melchior – clocks in the shape of said man-machines. But MB&F's skunk-works, aka the MAD Gallery, also enjoys 'art for art's sake' mechanics. Last year, the gallery supported 'Viva la Robolución!' by +Brauer, with 24 luminous robot sculptures made of reclaimed materials.

Bitten by the bug, the gallery's latest venture is a second exhibit in this vein, ROBOTYP, consisting of a series of robot sculptures by Hervé Stadelmann. They're sure to tug at the heartstrings of anyone who ever fell under the spell of B9 from Lost In Space or Robby the Robot from Forbidden Planet. That should tell you Stadelmann is inspired by the retro-robots of 1950s science fiction classics and Japanese tinplate toys, rather than the post-Star Wars variety.
Links to golden-age sci-fi toys permeate the sculptures, and not just for the looks: Stadelmann is a tinsmith, so each is fashioned from that material. 'One evening in November of 2014, I was in the middle of making small metal skulls using the least possible parts and I got tired of it,' Stadelmann explains. 'So I told myself that I would start a sculpture of something abstract without knowing where I was going. It was only a moment before the abstract sculpture began to look like a robot and I thought, 'Yes, good idea'.'

His robots are a wacky mash-up of Samurai styling and the cod-Egyptian uniforms from Battlestar Galactica, with geometric folds that recall origami and surfaces with mixed graphics suggesting the toys made from recycled soft-drink tins, as found in market stalls from Kuala Lumpur to Covent Garden. The difference, though, is precision, as each Stadelmann sculpture is crafted in Switzerland to watchmaking standards.

No two of the robots are alike, beyond sharing an average height of 70 centimetres and width of 40 centimetres. Each requires two sq m of sheet metal – these are not made from the thin tin of the aforementioned market-stall toys – and require 80 hours of painstaking work. Each robot sculpture actually requires its own individual set of blueprints.

Sixteen ROBOTYP robots are currently on display at the Geneva gallery, offered at CHF 2,450 each.
INFORMATION
For more information, visit the MAD Gallery website
ADDRESS
MAD Gallery
Rue Verdaine 11
1204 Geneva
Receive our daily digest of inspiration, escapism and design stories from around the world direct to your inbox