'Dark Matter': Kath Libbert heralds the new generation of art jewellers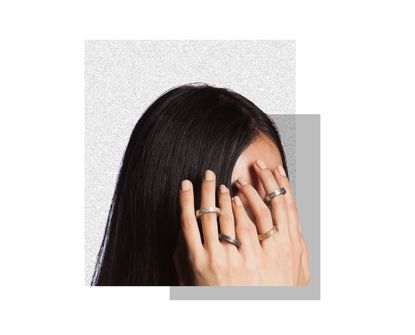 (Image credit: TBC)
Though its expansive collection of David Hockney works put Bradford's Salts Mill on the contemporary art map, for the past two decades gallerist Kath Libbert has singled out the former Victorian textiles mill as a hub of British contemporary jewellery too.

Since opening her eponymous jewellery space in 1996, Libbert had the foresight to establish an annual graduates' exhibition highlighting emerging talent, which she picks from across the UK, from Dundee to Brighton – broadening today's art jewellery conversation in the process.

'The work has to be distinctive, break new ground in some way, be beautiful or ugly but be special,' Libbert says of what she looks for in the new designers she champions, many of whom she discovers at the seasoned New Designers fair in London.

Among her picks for this year's exhibition, 'Dark Matter', is Genevieve Howard, a BA Metals and Jewellery graduate from the National College of Art and Design, Dublin. Howard makes bangles and necklaces from stacks of fine, laser-cut Japanese linen paper. Informed by written musical scores, her jewels then become objects of 'graphic notation'. The voluminous pieces are obviously 'strong on texture and form' but, as Libbert says, they are also 'easily wearable'.

It's this emphasis on the functional aspect of the art form that makes Libbert a gallerist of note in the current art jewellery field. While few are likely to wholly agree with her – or indeed any editor's – picks, she is an expert curator in her role as conduit between artist and her gallery patrons.

It's an especially pertinent skill in the often deeply personal realm of 'wearable art' and its tradition of expression over function that makes it hard to consider in design terms. The strong narrative bent that sometimes defines it can make these jewellery pieces overly crafty, too organically inspired and freeform to a questionable degree.

Libbert's curation, then, is paramount. Also on show are the blocky, blackened balsa wood creations of Glasgow School of Art's Maliha Khan, which are articulated to reveal an alternate burst of colour. Rochester University of the Creative Arts' graduate Elisavet Messi, meanwhile, devises her own tools to distort lengthy reams of precious metal wire into rings and bangles. Both adhere to Libbert's preference for work that 'excites, stimulates, breaks new ground and, above all, must be well made'.

Overall, it's Libbert's passion for her subject and its upcoming breed that makes her exhibitions worth considering. They also have the added bonus of making art jaunts to Salts Mill doubly worthwhile.
Genevieve Howard (opens in new tab), a BA Metals and Jewellery graduate from the National College of Art and Design, Dublin translates musical representations into tactile and wearable forms
An accomplished musician, Howard makes 'musical sculptures' using technologies new and old, including laser cutting and traditional metalwork techniques
Khan's 'Layered Anatase' ring (pictured), crafted from a mineral form of titanium dioxide, reflects her interest in different materials
Why graduates? It's Libbert's evident passion for stimulating new ways of thinking about jewellery that pushes her to look for and display the most promising new practitioners. Pictured: 'Articulation Bangle', by Ieva Mikutaite
INFORMATION
For more information, visit Kath Libbert Jewellery Gallery's website (opens in new tab)
ADDRESS
Kath Libbert Jewellery Gallery
Salts Mill
Victoria Road
Saltaire
Bradford, BD18 3LA