Liquid time: HYT's new H0 line forms its own horological universe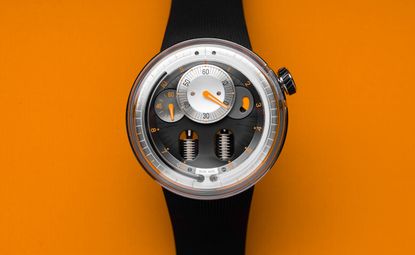 (Image credit: HYT watches)
While the 'D' word – 'disruptive' – swiftly joined 'iconic' and 'DNA' for overuse, its application is justified when HYT employs it in a watch context. This is the brand that introduced wristwatches with hydraulic fluid displays, consisting of a minuscule-diameter circular tube surrounding the dial, filled with a luminous two-colour liquid that stops at the relevant hour mark. It must be the first hydro-mechanical mash-up since the water clock – and that dates back to the 16th century BCE.

HYT had to devise a system with a pair of unimaginably tiny bellows to pump the fluid. What it gave them, however, was an instantly-identifiable look, a perfect example of form following function. The bellows and liquid-filled tube define the watches' layouts, however varied the styles or case shapes HYT may issue.
New for 2017 is the H0 line, arguably the best-looking range yet (though we'll understand if you disagree because you fancy Axl Rose's skull face HYT). Its lug-less case is reminiscent of Marc Newson's Ikepods while other details recall Ressences, but the look is utterly fresh thanks to a dial covering all but the bellows.

HYT has prepared three versions, varying in colour schemes, and all are less cluttered than the more tech-y predecessors which reveal most of the structure. The H0's mien is futuristic rather than steampunk – the attitude of the earlier models. The glass tube still encircles the dial to show the hours, with minutes indicated by a hand on a subdial at 12 o'clock and seconds with a small subdial at 9 o'clock. A cutaway at two o'clock shows the power reserve.
INFORMATION
For more information, visit the HYT website (opens in new tab)