Hideki Yoshimoto ponders heaven and earth for La Montre Hermès
How the Japanese artist's Tangent studio created an interstellar installation for Hermès fine-watch division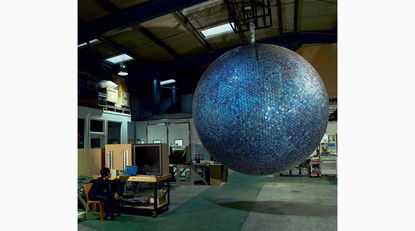 (Image credit: Philip Sinden)
When La Montre Hermès gave Hideki Yoshimoto Japanese artist the briefest of briefs to design an installation around its 'Arceau L'Heure De La Lune' timepiece, he was amazed. 'It was just "double moon" and "dream",' he says of the project, which was realised at the watch launch in Geneva earlier this year. 'They really put their trust in me.'

Yoshimoto had worked for the maison before, creating window displays and a high-tech dispenser of Hermès shampoo bubbles. 'But this was my first watch-related project. I soon realsied that it was not easy to make watches – which are much smaller than the artworks – stand out in every scene.'
Yoshimoto's concept consisted of vitrines with interstellar scenes arranged around a vast floating planet. 'The work reflects an astronaut's travel in space,' he explains. 'He heads towards deep space, encountering various elements before reaching another galaxy, where he discovers a blue planet with an ocean.'

The ambitious work is a celebration of La Montre Hermès' most audacious mechanical watch to date. The 'Arceau L'Heure De La Lune' features two lunar discs showing the moon as seen from the northern and southern hemispheres. Yoshimoto's giant sphere, made of recycled solar panels, was assembled in London, where he lives and runs his studio, Tangent. 'This type of blue solar cell is now defunct. It has a distinctive aesthetic, and by giving a waste material new life, I hoped to create a narrative about sustainability,' explains Yoshimoto, who studied engineering in Japan.
Having made an impact 12 years ago with a DIY airship operated using voice recognition, he moved to London in 2010 to study at the Royal College of Art. He won a design award in Milan in 2013 for his 'Inaho' light, inspired by golden ears of rice swaying in the wind. For now, he's intent on designing products, especially lighting, where interactivity is a feature. 'But I only use technology when it's needed, not for its own sake,' he says.

Work on the installation for Hermès has taken Yoshimoto to the brand's workshop in Paris, where the focus is on usefulness, longevity, craftsmanship and sustainability.

'Watches featuring trendy tech to fulfill a one-time curiosity are on the rise, so it's important that maisons like Hermès make pieces that are timeless.'
INFORMATION
Emma O'Kelly is a contributing editor at Wallpaper*. She joined the magazine on issue 4 as news editor and since since then has worked in full and part time roles across many editorial departments. She is a freelance journalist based in London and works for a range of titles from Condé Nast Traveller to The Telegraph. She is currently working on a book about Scandinavian sauna culture and is renovating a mid century house in the Italian Lakes.