Hidden gem: New York's secret art jeweller uncovered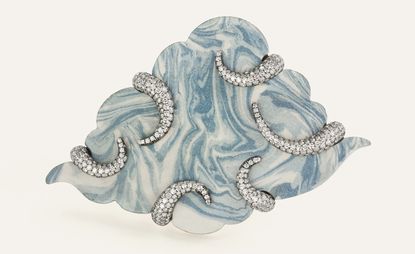 (Image credit: Kayleigh Jankowski)
There's something about a Taffin jewel that always makes you look twice. Not because you might like it but rather, because you're not sure that you do. While the narrative drive of founder and designer James de Givenchy's jewels is mostly obvious, as in a bird or a flower, they have a fine-art intrigue that's not always easy to grasp at first glance.

This month, the launch of Taffin: the Jewellery of James de Givenchy, published by Rizzoli, presents a rare opportunity to contemplate the 20-year archive of the Taffin jewellery designer up close. Because de Givenchy works on a private, commission-only basis, his designs are not generally in the public realm.

In a foreword to the book, Tobias Meyer, famed auctioneer and former head of contemporary art at Sotheby's, reveals the kind of client that Taffin has attracted in his two decades of design.
'During one exhibition, in New York in 1997, Frances Bowes and her late husband came in and I noticed she was wearing an interesting ring. She has exquisite taste in everything, from Twombly to Richter to jewellery,' Meyer recalls. 'I liked the mount and stone: a large greenish-yellow diamond in a Peruzzi cut. She told me that she had found it in a necklace at auction and had a young jewellery designer named James de Givenchy remake it as a ring.'

The nephew of couturier Hubert de Givenchy, James established Taffin in New York in 1996. Having studied graphic design at the Fashion Institute of Technology, it is perhaps his visual-arts background that injects Taffin jewels with an almost comic-book fascination. That de Givenchy also spent time at Christie's, as head of its West Coast jewellery department, and is a former vice president of Verdura, brings a museum-like quality to the mix.

In fact, the craftsmanship and execution of Taffin jewels is so exceptional as to make their character arguably more compelling than whimsical (though the book, unnecessarily, focuses a tad too much on the latter). As such, an emerald brooch looks like a sea urchin made of rocket-shaped baroque pearls; spessarites, garnets and sapphires are set like a sticky cluster of jelly sweets; while precious and non-noble materials such as glass, wood and plastic are fused, creating a fine-art sensibility.

Though French, de Givenchy creates and produces everything in the USA. You'll always know a Taffin jewel when you see one – if you ever get the chance – but if ever in any doubt, look for the unique Statue of Liberty stamp: a wry celebration of de Givenchy's French and American influences.
INFORMATION
Taffin: the Jewellery of James de Givenchy, $150, published by Rizzoli. For more information, visit the website (opens in new tab)