Harumi Klossowska de Rola's latest jewelled menagerie for Chopard draws from her eponymous line's snakish charm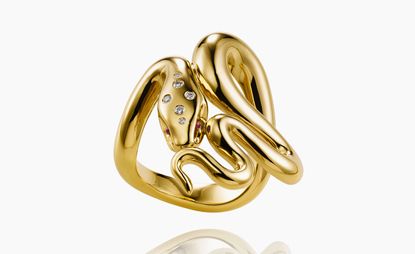 (Image credit: press)
Harumi Klossowska de Rola has just launched her latest fine jewellery collection at Dover Street Market. This year she has also embarked on another high jewellery collaboration with revered Swiss maison Chopard.

Klossowska de Rola is the daughter of the French-Polish artist Balthus and has been designing jewellery for almost 20 years, following a stint working for John Galliano's design studio. Her Dover Street collection is defined by a carefully considered combination of materials, including various woods, yellow gold and diamonds.

Her Chopard collection, meanwhile, follows the house's tradition of creating a menagerie of jewelled animals. A blackened white gold snake that curls around the neck and sinks its fangs into its tail is a standout piece.

We caught up with Klossowska de Rola on a recent trip to London to find out more...

Wallpaper*: You come from a rich art tradition. Why did you choose jewellery design as your medium?
Harumi Klossowska de Rola: My passion for precious stones began when I was a child living in Italy [at the Villa Medici in Rome]. Inspired by the many mosaics there I began creating sculptures using tiny pieces of green glass which I would give to my mother and father. They usually ended up in the bin, but I'm obsessed by drawing too - I sketch all my own designs in pencil, often while I am travelling by train. Then I finish them in watercolour.

What influences your aesthetic?
My husband, my children and I still share the family home with my mother in Rossinière in Switzerland, where we are constantly visited by friends. Because they tend to be artists, all kinds of ideas are exchanged. I'm also half Japanese so my mother taught me a lot about the Japanese aesthetic, particularly the concept of wabi-sabi. The notion that irregularity is part of an object's beauty, and that beauty does not have to be brand new and shiny, but can be very subtle. My own jewellery designs are imperfect and simplified. I work with different woods, living materials, as well as precious stones - I think the combination appeals because both are simultaneously hard and fragile.

Working with an international fine jewellery maison must present unique challenges?
It's like working in a wonderland, as you have so much craftsmanship at your fingertips. It does take time to build up a relationship with the craftsmen - at least one or two years. They soon let you know if some things are technically impossible and I work with them to understand their point of view. But there have been times when they have thought something was impossible, but with a little push we managed it.

Tell us about the snake neckpiece?
The snake took two years to create - it was a monumental process. You can wear it as a belt as well as a necklace, which is hugely complicated. We even blackened gold for this collection to reflect the animals' colours. I make jewellery that has a life to itself, even when it's not being worn. Everything I make is handmade and unique.

What's your next step with Chopard?
Next year Caroline Scheufele - the artistic director and co-president of Chopard - and I plan to work on designs that are more eco-friendly - accessories maybe, but not high jewellery.

Do you like the notion of applying your fine jewellery skills to other métiers?
I've always been interested in creating objects, even with my jewellery pieces, so I'm also developing a furniture line with Parisian company Astier de Villatte in honour of my father. The focus is on simple tables, chairs and lamps, made with natural materials.
Receive our daily digest of inspiration, escapism and design stories from around the world direct to your inbox