Retail rebellion: we trace Dover Street Market's first decade of boundary-pushing design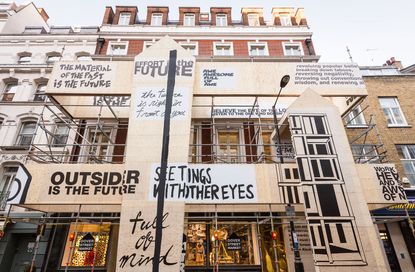 (Image credit: press)
To mark the tenth anniversary of the revolutionary retail concept Dover Street Market, the original London store reopens its doors this week after 72 hours of Tachiagari ('beginning' in Japanese) reinvention, kicking off a month-long calendar of special projects, limited edition products and installations.

'Tachiagari is part of Dover Street Market's DNA,' says vice president Dickon Bowden on the store's signature mode of creative flux that's seen artists and set designers dream up infinite concept spaces over the years, 'It continues in everything we do.'
This birthday facelift includes the expansion of the ground floor's fine jewellery space (remodelled by English artist Tom Price (opens in new tab)), an enlarged rooftop Rose Bakery café, the global launch of G I R L (Comme des Garçons' fragrance collaboration with Pharrell Williams), and Tokyo's Good Design Shop's basement residency.
'Rei [Kawakubo] has always been very inspired by the energy and the clashing of different people coming together within markets, which ultimately resulted with this beautiful chaos idea,' explains Bowden.
The celebrations technically began in late August with Louis Vuitton's first DSM concept space (the brand has historically only been available through its own boutiques and department store partners) debuting Nicolas Ghesquière's A/W 2014 collection, housed on the first floor until 14 October.
Equally as anticipated is this week's erection of a series of 'Market Street Dover' themed stalls scattered around the store, selling reasonably priced DSM souvenirs that have been either curated or created by DSM founder and Comme des Garçons designer Rei Kawakubo, along with exclusive products fashioned by designers from Simone Rocha to Rick Owens and Giambattista Valli.
And although the DSM concept has now expanded to Ginza, Tokyo and New York, initially, it was inspired by London's famed Kensington Market. 'She used to love going there,' continues Bowden, referring to the three-storey indoor market on London's Kensington High Street. The bohemian enclave catered to almost all of Britain's sprawling sub cultures over the years, from the hippies to the ravers, via the punks, before it closed its doors in the 1990s.
'Each one has its own personality,' continues Bowden of the three stand-alone emporiums. 'London is the original and it's the soul of Dover Street; Ginza is a beautiful, beautiful store; and New York encapsulates the chaos very aptly.' Indeed the latest edition spans seven floors, east of Midtown on New York's Lexington Avenue.
And despite the fact that this milestone is being celebrated under DSM's forward-focused 'The Next Ten Years' campaign, we couldn't help looking back at some of the stellar collaborations from fashion brands and artists that have transformed this London space over the years, as talents like Matt Moser-Clark (opens in new tab) and Gary Card (opens in new tab) have each let their imaginations roam wild to fuel pure merchandising magic.
'They give so much freedom to experiment and make things the way I intend them,' says Card of his interactions with the brand. 'I'm a strong believer in the first instinctive idea being the best, and Dover Street are so open to that, they are extremely receptive to strange ideas, yet nothing is strained or forced.' The set designer's most ambitious project included an installation of 40 clown heads displaying 40 pairs of glasses, each one lovingly sculpted from 100 roles of masking tape, which toured all branches.
Moser-Clark shares the sentiment: 'Working as an artist, you quickly learn how fast the world turns, and then working with DSM I learnt how much faster fashion moves. The whole thing is an experience not a shop.' The first project he worked on was a window piece called 'The Ship of Fools' back in 2011. 'It was as you might expect, a sort of fishing trawler decorated with ice cream sundaes,' he says of the work that was about the same size as his studio at the time.
'You'll be doing a window at 3 or 4 in the morning and people are stopping and taking pictures,' reflects Bowden on their unexpected displays that wink out from one of Mayfair's poshest addresses. 'That's hugely satisfying.'
ADDRESS
17-18 Dover Street
London W1S 4LT