'Love Knots': Alexandra Jefford and Smythson create five gold rings for Wallpaper* Handmade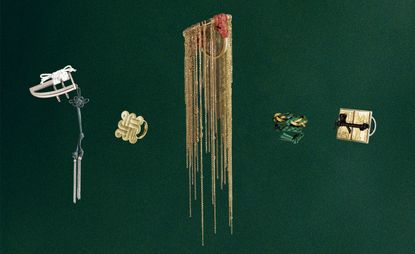 (Image credit: Helen Steer)
Since early times, natural materials – wool, grass, leather – have been used to create symbolic finger knots denoting unity. As ancient symbolism for partnership goes, few motifs resonate as powerfully, whether in love, comradeship or political union.

Considering the gold ring, a refined form of the early love knot, and the jewel that typically represents togetherness in the Western world, the 2019 Wallpaper* Handmade 'love' theme presented an opportunity to explore the global origins of early knots. The range of cultural references in Jefford's designs made her stand out as our jeweller collaborator of choice, while the rich leather palette Smythson is famed for led us to the heritage British leather house. Here we present their unique series of five gold rings inspired by the ties that bind us all.

Alexandra Jefford
We're big fans of jeweller and artist Alexandra Jefford's art-theory inspired precious pieces. From her 'O' series, featuring a Josef Albers font-inspired ring collection, to solo exhibitions where her jewellery informs wider, sculptural works, a constant interplay of art, craft and architectural discipline weaves deftly through her designs. The London-based jeweller is driven by the notion of creating an accessible art form, while staying true to her roots in fine art. Jefford works mainly on a commission-only basis from her studio in Soho, London.


Smythson
The British leather goods house famed for its lightweight, bound portable diaries, handbags and personalized pale-blue stationery has, in its 130 years, become one of the great names of British craft tradition. A natural product designer, its founder Frank Smythson made his name in 1908 with a leather-bound diary so pliable it could be "squashed, folded or rolled up without becoming marked or misshapen, fitting into a gent's breast pocket without causing the least disfigurement'. Today, newly appointed creative director Luc Goidadin is gearing up to explore Smythson's colourful heritage through the prism of a keen, contemporary vision.
INFORMATION