From the vault: Bonhams' Jean Ghika on how to collect mid-century jewels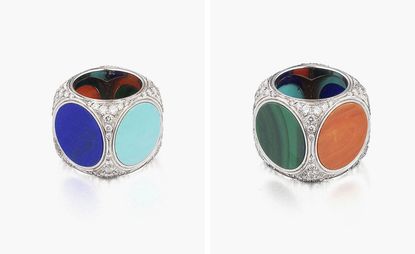 (Image credit: press)
Bonhams kicked off its international jewellery auctions season in London last week, when its star gem – a Fancy Intense Blue diamond – sold for £2.32m. But it was the rare cache of prime pieces from the 1960s and 70s among the 125 lots that caught our eye. Jean Ghika, UK and Europe head of jewellery at Bonhams, tells us about the growing trend for collecting mid-century gems:

The provenance
Historically, jewellery has been a form of wearable adornment but today it is increasingly considered as an art form in its own right. Modern and contemporary designers appeal to collectors who wish to build a collection of jewellery as they might build a collection of contemporary art. In that respect, design-led jewels have a value over and above the intrinsic value of the component parts. In the auction market, therefore, interest tends to concentrate on designers who have an established and existing following, such as Andrew Grima – the Italian jeweller who had London society of the 1960s and 70s in thrall. That said, if you are looking to start a collection now, it's worth remembering that not all pieces at auction are signed by specific makers and, as long as they are good quality and have a strong design element, they are worth collecting.
The design details
On sale in London last week were original pieces by Andrew Grima. Grima pieces are always sought after because their sculptural, organic forms and flamboyant scale and style represented a departure from the more structured jewels of the previous decades. The 'Textured Wire' bracelet (estimate £15,000 – £20,000) is a great example of Grima's work. Created in 1968, it is composed of linear gold rods set at varying levels, with emerald and diamond accents adding colour and reflection.

The 'Dice' ring (estimate £4,000 – £6,000), though not attributed to any designer, has a distinct charm. Its bold colour combinations of turquoise, malachite, coral and lapis lazuli are resonant of the cocktail era of the 1950s. The diamonds add a fine, precious touch.

A cache of current-era Hemmerle pieces was also on offer. Designs by the German house can be deceptively simple in design, but each is engineered to perfection to ensure they sit perfectly on the ear or hand, while displaying the subtle tonal differences in the brown, orange and yellow diamonds to best advantage (estimates from £4000 – £15,000).
The signs of the times
Perhaps modern-era pieces are just being being appreciated more now because strong handmade design pieces tend to stand out. Also, very often they are unique one-offs that were produced in very small numbers, which is always an attractive element for collectors.

The now factor
The chance to bid for gems online at live auctions has made it easier than ever before to start collecting, as you can join in from anywhere and you don't need to be in the sale room.
INFORMATION
Bonhams' New York Fine Jewellery auction takes place on 14 October. For more information, visit the Bonhams website
Receive our daily digest of inspiration, escapism and design stories from around the world direct to your inbox
Having worked as a journalist and editor for titles such as British Vogue, Vanity Fair and the Daily Telegraph, Caragh McKay became Wallpaper Watches & Jewellery Director in 2012, before branching out a few years later as an independent creative director in the luxury arena.