Fredrikson Stallard debuts the 'Space Flower' collection for Atelier Swarovski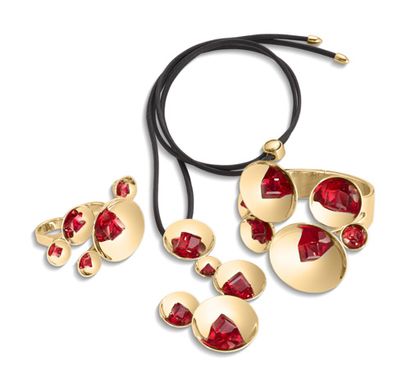 (Image credit: press)
The fact that good design is so important to Swarovski (opens in new tab) reminds us that it is not just crystals but precision-cut crystal products that shape its business. The brand's commitment to mentoring designers in fields from fashion to architecture is nicely reflected in the 6-year-old Atelier Swarovski initiative.

Twice a year, Atelier Swarovski launches a new luxury accessories line, of which jewellery is a major part. What makes it worth looking out for, however, is the fact that the collaborators are not, well, jewellers. They are designers. Simple as that.

Cue new collaborators, design duo Fredrikson Stallard and their 'Space Flower' collection. Made up of cluster rings, bracelets and necklaces in polished metal and crystal, the idea, they say, was for the pieces 'to create a virtual, animated sensation when worn. Like a virtual meadow'.

We were intrigued, so we tracked them down to find out more...

The notion that the jewels change as you wear them is compelling. How did you create this 'animated sensation'?
Swarovski crystals are razor sharp in their cut and have an extraordinary ability to refract and reflect light. This was something that we wanted to nurture - to place the crystal into an element that would be able to underline these qualities, but also would allow us to multiply these effects and create flowing patterns that would sit well on the body, move with the body and, in such a way, come to life. Using single crystals allowed reflection and refractions to be magnified and move as the wearer moves. It was like creating a fourth dimension by letting both the crystal and its setting work together in a glamorous and elegant way.

The ergonomics of jewellery design - the scale of it; the fact that it has to work with the body - how did you grapple with that?
It was all about scale and applying the studio's ethos and manifesto to the body - we applied the same principles to jewellery that we do with much of our work. The scale is different and this obviously needs to be taken into account in terms of detailing and finishes but, as always, the end result should feel effortless and elegant and be true to the materials and their unique qualities.


Designers and architects often forget that jewellery has to work with the body. The Space Flower pieces are refreshingly considerate in that respect.
It is a very sensual and flowing collection. We wanted the pieces to be elegant and feminine, but in a very strong and contemporary way. We also wanted to allow the wearer to combine different pieces to different events, and for some pieces to be worn in different ways, depending on the hours of the day.

Who or what was the muse?
We imagine the wearer of this collection as someone who needs to be elegant and at the same time strong and confident, but still with a contemporary feminine glamour. With much of our work, we embrace the emotional reaction from our audiences whether the end piece is jewellery, furniture or architecture.

The overall inspiration?
Whatever we design, we find inspiration in everything, including jewellery design, but our biggest inspiration is the fine art world - this in many ways offers greater creative freedom.


Are there plans for other related projects - jewelled objects perhaps?
There are already plans for future jewellery-related projects, but as always we keep these safe, with our lips sealed until we have the green light!