Digital crystal: Swarovski exhibition at the Design Museum, London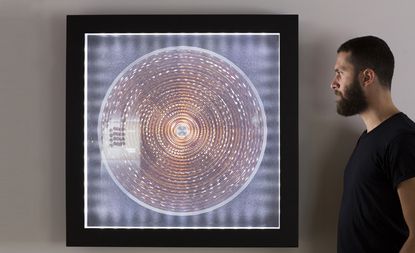 (Image credit: David Levene)
Wallpaper* Newsletter
Receive our daily digest of inspiration, escapism and design stories from around the world direct to your inbox
Thank you for signing up to Wallpaper. You will receive a verification email shortly.
There was a problem. Please refresh the page and try again.
Who would have thought a crystal exhibition could be so noisy? Climb the stairs of the Design Museum to reach 'Digital Crystal' and the decibels quickly start to rise. First comes the gentle click-clack of Random International's 'Study of Sunlight Video' - projecting the journey of light in a digital age - swiftly replaced by the explosive snap, crackle and pop of Semiconductor's 'The Shaping Grows' in the first chamber of the exhibition. An assault on both the eyes and the ears, this multi-coloured video work shows how crystals grow and combine in a computer-generated crystal cave.

Next up is Fredrikson Stallard's 'Pandora' chandelier (originally designed in 2007), which breaks and reforms in a chaos of light, sound and crystal. And almost everywhere you turn in this Carmody Groarke-designed exhibition, things are moving or whirring.

'We wanted the exhibition to be an immersive experience,' says Swarovski creative development director Suzanne Trocmé, who commissioned eight new pieces for the show. For the last decade, Swarovski's design and architecture collaborations, showcased in its Crystal Palace exhibitions, have been inviting leading designers to experiment with crystal in radical new ways, but this is the first time the collaborators have been given a brief. Challenged to explore the notion of memory in a digital age - one in which physical objects are becoming 'an endangered species', says Design Museum director Deyan Sudjic - their multi-sensory offerings are unusually evocative.

Some speak about forgetting, such as Ron Arad's 'Lolita' chandelier - first conceived for Swarovski Crystal Palace in 2004 and reworked for this exhibition. Its 2000 or so Swarovski crystals are embedded with LEDs that allow visitors' text messages and tweets to be momentarily emblazoned on its twisting form. 'It's the opposite of carving a wall with words,' says Arad. 'This is ephemeral.'

Other works speak about remembering, such as Philippe Malouin's 'Blur' installation. The designer spins multi-faceted Swarovski crystal beads in circles at high speed, forming mesmerising abstract 'light paintings' of concentric coloured rings. Look away from these works and their intense prismatic patterns still swirl in your eyes.

Crystal is in itself an evocative medium. 'When you have a crystal, you always keep on moving it, because its kinetic light effect is so thrilling,' says designer Arik Levy. His 'Osmosis Interactive Arena' installation allows visitors to transform a digitally-generated crystal through their own movement, calling in to question how human actions are remembered by nature.

Whatever the subtext of the works, however, this frenetic and dazzling exhibition won't easily be forgotten.

Watch an interview with Ron Arad about Lolita
Watch an interview with Levy about his installation
ADDRESS
Design Museum
Shad Thames
London SE1 2YD
Receive our daily digest of inspiration, escapism and design stories from around the world direct to your inbox
Malaika Byng is an editor, writer and consultant covering everything from architecture, design and ecology to art and craft. She was online editor for Wallpaper* magazine for three years and more recently editor of Crafts magazine, until she decided to go freelance in 2022. Based in London, she now writes for the Financial Times, Metropolis, Kinfolk and The Plant, among others.