Jeweller Shaun Leane upscales to gild the façade of a London apartment block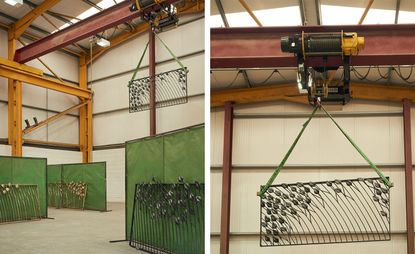 (Image credit: Phil Dunlop)
Arbour, Shaun Leane's latest piece, has a seemingly random nature to it. It comprises a monumental façade of sculpted brass branches and leaves that appear to sway around a new residential development in Kensington in west London.

As a jeweller used to working on a tiny scale, Leane was pleasantly surprised, though a trifle perplexed, when placemaking agency Futurecity approached him with a view to creating a large-scale public artwork in 2016. 'I was up against some major design names, so I thought it was nice to be asked and that the application process would be a good experience,' Leane recalls.

Leane's avant-garde portfolio – such as his infamous skeleton corset and face clamp – also marked him as a radical choice to design a public art piece, but his jewellery style is borne of an apprenticeship in classic restoration work, and he is a traditionalist at heart. Leane's reputation as one of the most daring fine jewellers of his age has been won through a rigorous work ethic and a meticulous eye for detail and craftsmanship, which appealed to property developer Grainger, who commissioned the piece.

The 1,850 bronze sculpted leaves and three-dimensional branches of Arbour adorn 26 balcony railings and two gates across the façade of 21 Young Street, just off Kensington High Street. The entire piece weighs more than four tonnes, and Leane's studio designed and crafted the first leaf designs in resin and nylon. The jeweller then chose Cumbrian sculptor Chris Brammall to bring Arbour's bronze form to life.
'I liked the flow of line and consistency of fluidity in Chris' own metalwork', says Leane. 'He got all that detail we had honed into the prototype design immediately, and understood that ours was not a literal interpretation.' Brammall and Leane are in happy territory: 'I know immediately when I speak to another smith whether they appreciate detail and are passionate about metal and its possibilities,' says Brammall.

It was Kensington Square, across the road from the new development, that prompted Leane's vision for 21 Young Street. A culturally significant area, the square was acquired in the mid-17th century by Thomas Young (who gave the street its name), a woodcarver with a vision to create a residential sanctuary from the dirty, teeming city – a 'habitacion of persons of good Worth and Quality with Courts and Yards and Gardens.' Its haven-like nature – vines twist around the white stucco façades of the houses creating shadows that shimmer in the sunlight – are now reflected across the new residences, on the site of a former car park, by way of Leane's additions.

'The design came naturally – it was rogue and random. I instantly knew that I could do it as I'm used to working with organic forms that grow around a body or an object. To do the same with a building seemed instinctive.' Challenges, however, loomed pretty quickly. 'Jewelley engineering has its own restrictions and I am used to thinking about how a jewel sits on the body,' says Leane. 'In the architectural arena, which is such a different scale, you have to consider very different things – the railings have to be safe for children to touch, for instance, and that means I couldn't be as natural with the design as I am used to.'

As a result, when Leane presented the original designs to Grainger, 'they said they loved them but that they had expected something wilder'. The jeweller referred to regulations, but they told him to 'just go back and design how you want'. So, while the railing panels bear the brunt of health and safety concerns, the 1,850 leaves that comprise the design – each finished by hand – express Leane's desire for movement, of nature twisting free. That sense of nature being at once beautiful and terrifying is the undercurrent in Leane's jewellery. At 21 Young Street, it's there for all to see. §

As originally featured in Precious Index, our Watches & Jewellery supplement (see W*230)
INFORMATION
For more information, visit Shaun Leane's website (opens in new tab), Chris Brammall's website (opens in new tab) and the 21 Young Street website (opens in new tab)