Napoléon to Picasso: Assouline brings Chaumet's storied archive to life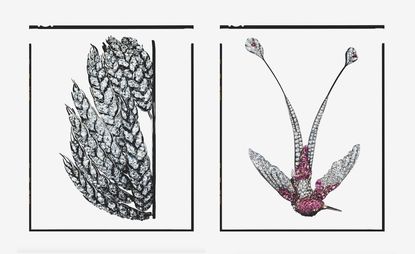 (Image credit: Guido Mocafico)
The sparkling history of Chaumet – the French Place Vendôme jeweller – is the subject of a new boxset trio of books by Assouline. Famed as the official jeweller to Napoléon and the Empress Josephine, since its founding in 1780, Chaumet gained a reputation for exquisite aigrette and tiara designs.

The first book in the latest triptych – Gabriel Bauret's 'A Discerning Eye' – documents Chaumet's relationship with photography. The maison's archive includes an impressive 66,000 negatives and 211,000 unmounted prints. Joseph Chaumet was an early adopter of photography, using it not just to document the house's designs, but also in a scientific sense.

'It enabled him to examine and study precious stones…also making it possible to identify flaws and fakes,' Bauret says. In 1987, Chaumet's photographic laboratory was closed, paving the way for the house to work with a variety of artistic photographers on its advertising campaigns. These include the surreal still life images of Ola Bergengren and, more recently, fashion photographer Karen Collins' pared-back approach to Chaumet's signature knot designs.
Drawing for a Brittle Star shoulder ornament, by Joseph Chaumet, 1900. Collection Chaumet Paris
The second book – 'An Artistic Heart', by Jérôme Neutres, details the history of the both the maison's 12 Place Vendôme atelier and its rich design archive, one including silver maquettes and 56,000 drawings, gouaches and watercolours. Neutres delves into the house's artistic heritage, noting that: 'Chaumet has always responded to the artistic contexts of each era.'

So here we have early nineteenth century pieces referencing neo-renaissance paintings by Da Vinci and Raphael, or a cubism-informed brooch from 1925, depicting enameled dolphins, influenced by Braque and Picasso.

The final book in the box-set, 'Chaumet est une fête' – also the name of the maison's latest high jewellery collection – embraces the house's perennial joy in decadence, festivity and celebration. Written by Antoine de Baecque, the volume recounts a host of grand Parisian balls from the early nineteenth century to the present day

These include the Inca-inspired Mardi Gras ball in 1812, hosted by the Empress Josephine's daughter, Queen Hortense of Holland, who wore a costume 'entirely covered in diamonds and pearls'. Or soirées held by Chaumet clients Charles and Marie-Laure de Noailles in the 1920's, where at their Cubist villa in Hyères, they hosted guests including Man Ray and Salvador Dalí. 'Chaumet est une fête' also traces the evolution of party jewels over time – the tiaras of Imperial Balls transforming into surrealist aigrettes, turbans and plumed headdresses.
A rich feat of historical imagery, photography and sketches, Chaumet: Arts, Photography, Fêtes is an artfully storied archive, designed to tuck neatly into any bookshelf.
INFORMATION
Chaumet: Arts, Photography, Fêtes, $75, published by Assouline. For more information, visit the Chaumet website
Receive our daily digest of inspiration, escapism and design stories from around the world direct to your inbox