Ceramics and synthetic stones infiltrate the fine jewellery realm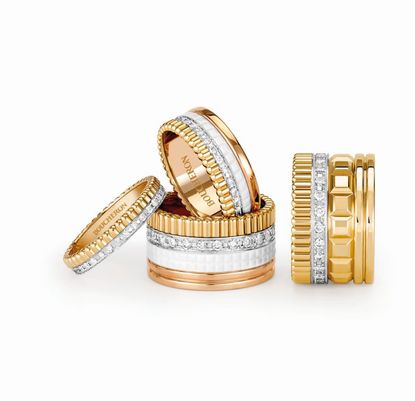 (Image credit: TBC)
Fine jewellery has taken a cue from the watch world by introducing high-tech manufactured materials alongside traditional precious metals and gemstones. The idea isn't novel: hard-wearing ceramics have been used to strengthen watch cases for decades now, with Apple recently blending ceramic powder into gold for the Apple Watch edition. But jewellers are creating a new luxury code by employing ceramic as a glossy foil to white diamonds, or turning to man-made stones set in natural golds for accessible, wearable jewels.

Milanese jewellery house Pomellato uses synthetic rubies and sapphires in hues of cadmium, orange or magenta for the Rouge Passion (opens in new tab) collection. Backed by mother of pearl, the cabochons have a creamy lustre and are set on bold cocktail rings, drop studs and pendant necklaces in 9 carat rose gold. These playful jewels have seen a strong response - the line is now one of Pomellato's bestsellers. CEO Andrea Morante points out, 'Using synthetic stones is pretty daring - no brand that is over 100-years-old could do that. But Pomellato's founder Pino Rabolini said that jewellery has to be something for every day.'

Older maisons are also experimenting. Earlier this year Chanel released the Cosmique de Chanel (opens in new tab) collection as a contemporary take on one of the house's most enduring motifs, the comet. This time, brilliant-cut diamond stars shoot across polished monochrome ceramics on chunky rings, pendant necklaces and earrings - a graphic update in tune with Chanel's philosophy of mixing high and low. Boucheron's relaunched Quatre White Edition (opens in new tab) collection of rings and earrings stacks layers of white ceramic between bands of yellow, white and pink golds and pavé diamonds. The company spent two years developing Hyceramic: more malleable than other ceramics, this sculptable alloy has been cut by hand into a textured band that resembles the cobblestones lining the Place Vendôme in Paris. A high-tech tribute to the home of fine jewellery, where synthetics have clearly found their own unique niche.