'Brilliant' diamond exhibition at Masterpiece London 2012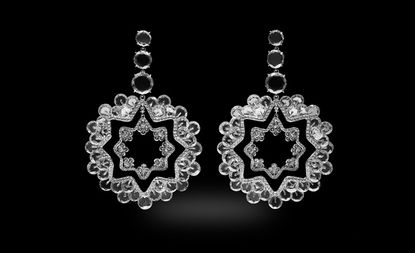 (Image credit: Michelle Ong)
There's a general perception that diamonds are simply the world's most expensive, shiniest stones destined to take centre stage in the design of rings, earrings and necklaces - the bigger the gem, the better. So, when we visited Brilliant, an exhibition of diamonds now on show at Masterpiece London (opens in new tab), we were fascinated to see how designers at the world's top jewellery houses continually seek to swerve traditional notions of diamond design. In fact, we've never seen a collection like it.

The show, one of the biggest draws at the annual art, antiques and design fair (on until July 4) - is curated by Carol Woolton, jewellery editor of British Vogue, and includes over 30 exceptional pieces by designers including Karl Lagerfeld (opens in new tab), Shaun Leane (opens in new tab) and Victoire de Castellane. The great houses, such as Cartier (opens in new tab), Harry Winston (opens in new tab), Boucheron (opens in new tab) and Tiffany & Co (opens in new tab) are also represented.

The fact that Woolton has taken the route of viewing diamonds as a material - 'technically, a diamond is nothing more than a lump of crystallized carbon' - rather than the more obvious path of displaying them as dazzlingly pretty gems has served her subject very well indeed.

That's not to say that Brilliant is not made up of some of the most inventive jewellery you are likely to see, it's just that you know you are seeing diamonds from a refreshingly alternative perspective from the word go.

The De Beers (opens in new tab) Talisman Wonder, for instance, is set with unruly rough and polished diamonds, giving this uniquely precious plate an 'unearthed' quality. Karl Lagerfeld, meanwhile, offers his first ever diamond design: inspired by his signature high collars and set with over 1,000 black diamonds, it doesn't so much dazzle as glint mysteriously, like a piece of medieval cloth woven with precious thread.

The Hermès (opens in new tab) Chaine D'Ancre Sac Bijou - a handbag bracelet created from 'tough, tangled and tumbled diamond ropes' was chosen for its tough appeal and the fact that 'diamond' translates from the Greek adamas - 'unconquerable'.

'Diamonds are unique; no two are ever the same,' Woolton points out. 'So, in the hands of each new generation of jewellers, diamonds become contemporary and exciting. Something of great power is created when a diamond's natural beauty is harnessed into a strong design and because they never age, diamonds are eternally modern.'

Brilliant, then, is in effect a design exhibition, with the creative thinking behind each piece as intriguing as the carefully considered, compellingly beautiful stones that comprise it.