Birthstone jewellery: find yours in our sparkling guide
Birthstone jewellery can be both symbolic and chic. Explore our handpicked edit of contemporary gems to gift (or gift yourself)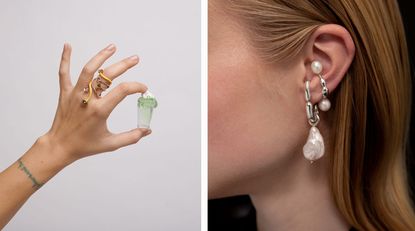 (Image credit: Bea Bongiasca and Mara Paris)
Birthstone jewellery has long held spiritual connotations – thought to bring good luck, birthstones are believed to imbue the wearer with good fortune. While such notions may leave some of us feeling cynical, we nevertheless hold a soft spot for our own birthstones which, in the hands of skilful jewellery designers, consistently make a thoughtful gift for yourself or others. Spiritual or not, with our ultimate birthstone guide below, there's no excuse not to make a stylish choice.
June birthstone: Pearl
Agmes has collaborated with Brooklyn-based sculptor Simone Bodmer-Turner for its new collection, which brings a sleek simplicity to classic pearl jewellery. Curves of silver and gold are an elegant foil for the voluptuous freshwater pearls.
agmesnyc.com (opens in new tab)
Goldsmith Jessie Thomas' deliciously imperfect baroque pearls are set off by the warmth of the hammered gold that frames them, lending an easy wearability to this precious piece.
The new collection from Mara Paris plays with the classic horseshoe shape for unique silhouettes that coil seductively round the ear. Embellished with pearls, this piece rethinks ear adornment, and makes for striking birthstone jewellery.
July birthstone: Ruby
Francis de Lara's jewellery shies away from tradition, and as a result is endlessly fun to wear. Heart earrings in gold, dripping Gemfields' Mozambican rubies, are stylish rather than sickly sweet.
Dalila Barkache brings a geometric twist to fine jewellery, with pieces that coax precious gems into unexpected forms – here, rubies glitter on a rose gold cage ring.
Abstract shapes drawn in gold characterise Margery Hirschey's collection for Gemfields, which dangles Mozambican rubies from elongated silhouettes.
August birthstone: Peridot
Designer Julie de Libran has partnered with Goossens for a limited-edition series in wam gold and coloured stones. The 'Toi & Moi' ring unites a lemon quartz, two peridots and a green amethyst for a sensual and summery adornment.
Bea Bongiasca's playful fine jewellery balances precious gems on brightly coloured twists of enamel for vibrant earrings and rings. The gentle hue of the peridot pops against its dusky pink foil.
Italian jewellery brand Vendorafa is marking its 70th anniversary with a spectacular collection of wearable art. The handcrafted 'Bamboo' cuff twists branches of the stone prase into curved segments, brought to life with a sprinkling of vivid peridots, emeralds, tsavorites and green tourmaline.
September birthstone: Sapphire
Sapphires are given a cool edge by Eriness, which adds a diamond-laced chain from a single blue stud for a contemporary take on fine jewellery.
eriness.com (opens in new tab)
Maria Tash's piercing jewellery is already a firm favourite for those with multiple piercings, but the blue sapphire and diamond yellow gold huggie earring will look just as good worn alone.
Yokabid Worku works with a plethora of bright stones and precious metals in her jewellery brand Yoki, which brings a freshness to fine jewellery. Blue sapphires, when framed in blackened gold wings, take on a seductive character rarely seen.
October birthstone: Opal
By teaming opals with blue sapphires and emeralds, Amrapali brings an oceanic serenity to statement earrings.
Chaumet weaves romantic references into its new jewellery collection, with customisable messages spelt out in a precious alphabet of stones. In the 'Amour' bracelet, aquamarine, morganite, pink opal, green uvite and ruby will promise undying love – and look chic while doing so.
Nina Runsdorf brings new life to beautiful fossilised tree opals in her new Tree of Life collection. The opals, from 15 million-year-old fossilised Indonesian wood, range from light to dark turquoise, richly edged in stripes of deep brown. When paired with yowah and boulder opals and diamonds, they are given a shimmering new patina.
November birthstone: Topaz
Maviada revives the classic chain necklace with a fluid pendant in the shape of its logo, dotted at each tip with a crystal-clear topaz.
For playful, tongue-in-cheek ear accessories, you can't beat Tada & Toy. Here the brand adds vibrancy to a classic ear cuff with a bright sprinkling of bold green topaz.
tadaandtoy.com (opens in new tab)
The new Nudo Gelè collection from Pomellato comprises three wholly new shades; the frosting of each stone is a result of two or three layers of different stones underneath, which bring a hypnotising depth to the colour. Here, fine layers of turquoise and mother of pearl reinvent sky-blue topaz.
pomellato.com (opens in new tab)
December birthstone: Tanzanite
Sig Ward brings a joyful energy to her eponymous jewellery brand with a cheerful clash of colour and design. Brilliant tanzanite meets pastel stripes and a strong geometric outline in these bold earrings.
David Yurman's Artist Series puts exceptional gems front and centre for intricate one-off pieces. It is the yowah opal that takes centre stage in these earrings, embellished with tanzanite, rhodolite garnets and blue sapphires for a showstopping take on birthstones.
davidyurman.com (opens in new tab)
Minka's 'Berlin' rings nod to the city's defining architectural codes of the 1920s, the stark designs reflected here in vibrant, octagon-cut stones. The pieces are available in a rainbow of colours – those with December birthdays will no doubt be drawn to the blue and purple hues of the tanzanite.
January birthstone: Garnet
Emily P Wheeler celebrates the sheer joy of dressing up after a subdued year with her bold and colourful new collection. In this necklace, a prism of graduated colour is drawn in morganite, tourmaline, garnet and spinel – wear with clashing colours for maximum impact.
Francesca Villa will be showing the 'Black Rose' ring at the Objet d'Emotion gallery at PAD later this year. Intricately crafted, it unites its surprising elements – a carré-cut garnet, white and grey diamonds and a vintage button – into one unified and edgy design.
Vintage meets modern in the 'Aphrodite' earrings from Laura Galasso, where a simple garnet stud can be worn alone, or teamed with a golden fan.
February birthstone: Amethyst
Boghossian's technical mastery of precious stones results in highly accomplished jewellery. Here, large orbs of amethyst are criss-crossed with diamonds to spectacular effect.
Vermeer Studio handcrafts its jewellery in Australia, focusing on an easy approach to design for pieces that will withstand trends. Precious stones including amethyst, carnelian, smoky quartz and calcite take on a chic nonchalance when threaded on earrings and necklaces.
Flora Bhattachary's work with lapidaries results in meticulously cut stones that seamlessly fit into her designs. Her ruby, amethyst and pearl drop earrings almost mimic the ruffles on a full-length gown in their delicate and precise curves.
March birthstone: Aquamarine
Nayestones jewellery casts looping forms and offbeat waves in gold, here placing an aquamarine just left of centre for a ring that rethinks the classic circle.
French-Lebanese jeweller Selim Mouzannar creates his colourful pieces in Beirut. With a love of unexpected colour combinations, here he makes the aquamarine pop by tracing its outline in teal.
Yael Sonia's tactile jewellery is made to be played with thanks to a kinetic design. A graphic juxtaposition of simple shapes in these earrings, which will move as you do, sets off the simple aquamarines at their heart.
April birthstone: Diamond
Diamonds don't have to be serious; when criss-crossing a bed of neon yellow enamel on this Maya Gemstones piece, they can even be fun. Those with April birthdays will love this piece, which is bang on trend for summer, and sure to brighten up the darker days that will follow.
Man-made diamonds are twisted into subversive shapes in S_S.IL's cool take on everyday jewellery. In the 'Twist Cubic' earcuff, a sprinkling of diamonds is all that is needed to elevate a simple silhouette.
Recycled gold and man-made diamonds form the basis of Matilde's collection, which is composed of minimalist essentials including these chic, compelling hoops.
matildejewellery.com (opens in new tab)
May birthstone: Emerald
Each design in Venyx's Muzo collection centres around the emerald, setting it against diamonds and framing it in bold geometric shapes for arresting adornments.
A beautiful Zambian emerald is the star of Patcharavipa's 'Jute' ring, its vivid hues brought out by ropes of warm yellow gold.
Mevaris gives spiritual concepts a fine-jewellery slant with the 'Awakening' charm, which draws the third eye in emeralds and white and black diamonds.
Hannah Silver joined Wallpaper* in 2019 to work on watches and jewellery. Now, as well as her role as watches and jewellery editor, she writes widely across all areas including on art, architecture, fashion and design. As well as offbeat design trends and in-depth profiles, Hannah is interested in the quirks of what makes for a digital success story.