Galerie Kreo coaxes designers out of their usual creative boxes for jewellery show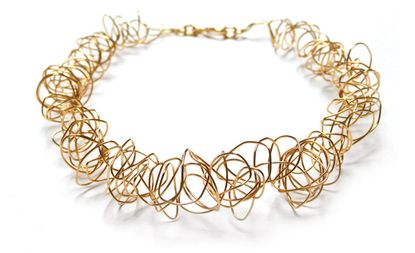 (Image credit: © DR. Courtesy Galerie Kreo)
When an artist suddenly switches hats and digs enthusiastically into a new, unchartered métier, the results can be oddly uneven or dizzyingly satisfying. Happily, the latter is the case of a group of architects, artists and furniture designers who have recently broken out - with jazz hands, no less - onto the unfamiliar stage of jewellery design.

Coaxed out of their usual creative boxes by the Galerie Kreo (opens in new tab), Paris' leading design gallery, contemporary furniture and industrial designers like Marc Newson (opens in new tab), Ronan & Erwan Bouroullec (opens in new tab), Jaime Hayon (opens in new tab), Hella Jongerius (opens in new tab) and Naoto Fukasawa (opens in new tab), have all made jewellery, produced in limited editions, for the first time.

Jewellery designer Dominique Modiano (opens in new tab) and furniture designer Martin Szekely (opens in new tab), who has collaborated in the past with Hermès (opens in new tab), were the only two artists who had previously confronted the jewellery oeuvre.

The gallery also asked its artist friends, whose work they don't normally represent, to take part in the project: Constance Guisset (opens in new tab), Tatiana Trouvé (opens in new tab), Annette Messager (opens in new tab), Fabrice Hyber (opens in new tab), and Dominique Perrault (opens in new tab) all jumped on board. The brief to all 20 participants was, quite simply, to design a piece of jewellery to be worn around the neck. The rest was up to the artist.

While many chose to work in gold - the industry standard - some leapt into the creative freedom with hemp rope wood, rough diamonds or polished onyx. Regardless of the materials, the results - like necklaces that swing from the ears by Constance Guisset, or tiny gold threads tumbled into a mass of knots by Lee Ufan (opens in new tab) - were all original.

Currently part of a Galerie Kreo exhibition entitled 'Autour du Cou (opens in new tab)' or, 'Around the Neck', the pieces are offered in limited editions and will be on view until 19 January.