The great parting: asymmetric earrings move from runway to jewellery box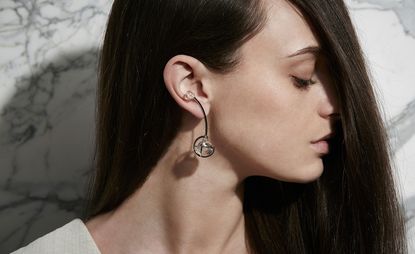 (Image credit: TBC)
Decorating ear lobes with a pair of symmetrical adornments has been a practice repeated for millennia. However, a growing band of jewellers is celebrating asymmetry in earrings whether in colour, size or form.
'Variables are fascinating and to me the balance between two things that are not the same is much more glorious than two things that are,' muses Danish jeweller, Sophie Bille Brahe. 'It is the same thing with beauty spots and stars in the sky,' she continues. 'These are things that you do not want to see in a symmetric pattern, because there is no wonder in that.'
Brahe's artfully minimalist pieces pair pearls matched in size but hung at different lengths from strips of matt finished gold. Similarly, with a signature focus on diamonds, Susan Foster creates differing lengths of baguette-cuts in the same pair. Meanwhile, Louis Vuitton's new 'Blossom' fine jewellery features contrasting concave and convex iterations of its iconic monogram, which also alternate hues of gold to produce pairs that match on first glance but create optical confusion and interest.
At Dior, Victoire de Castellane explores two different variations of the trend. The first, from the collection 'La Rose Dior', matches different partners of a bee or leaf. The second of Dior's articulations, 'Diorama Précieuse' balances an effortless pear-shaped stud against a fluid, twisting form incorporating a matching pear shape.
Brazilian designer Fernando Jorge's work has always been inspired by nature and its organic and flowing forms. His latest collection, 'Sprout', continues these themes. 'The rules for composing an asymmetric look are very flexible,' he says, 'but it should still be about creating an interesting balance of shapes and colours.' Again, a pear-shaped stud provides balance; this time, however, to a serpentine partner. This construction of a substantial form balanced by a simple stud also appears in the work of Lara Bohinc and Elise Dray, among others.
Ara Vartanian's creations feature rock 'n' roll hallmarks such as stones set in reverse with the table hidden, with an exposed pavilion jutting forth. Vartanian incorporates asymmetry in many of his earring designs – often in simple mirrors of each other with one form travelling up, while its partner follows the opposite path. One unique pair harnesses asymmetry in order to showcase a trinity of gobstopper-sized opal beads. Magnificent and rare, they are balanced by a simplified diamond accompaniment.