Apriati's London boutique design is rooted in classical codes
Greek jewellery brand Apriati is dedicated to new architecture but its London boutique revels in the spirit of classicism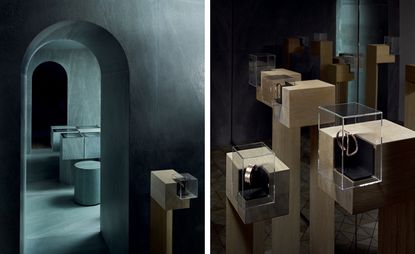 (Image credit: Benedict Morgan)
Themis Bobolas and Athena Axioti, the husband-and-wife team behind Greek jewellery brand Apriati, have spent almost 20 years developing the silk-wax cord that nonchalantly ensnares their delicate gold and precious stone motifs. The pair have developed their own process to give gold a coppery sheen. The result forms the basis of their fine jewellery pieces, and is used in their signature bracelets.

The precision that underlines Apriati designs is also reflected in the architecture of its London boutique (Apriati's seventh store, following outposts in Greece, Paris and New York). In Ancient Greek, 'apriati' means a yearning for beautiful things, and this was a starting point for the store's designers, Athens' Kois Associated Architects. 'The primary goal of a jewellery store is to create a sense of magic,' says practice founder Stelios Kois.
Wooden boxes on 'stems' house individual pieces of jewellery that together form a 'ower garden' visible from the street. Each one slots, Jenga-style, into an oak floor made up of removable pieces, so that the display is wholly changeable. Everything was custom-designed and handmade in Greece and the UK. The interior architecture, with its arches and symmetry, is loosely inspired by the spirit of Greek classicism. 'Ancient Greek heritage and the simplicity of the Doric order are there in spirit,' explains Kois. 'To me, the boutique has more in common with an art installation than a jewellery store
Information
Address
168 Walton Street
SW3 2JL
Emma O'Kelly is a contributing editor at Wallpaper*. She joined the magazine on issue 4 as news editor and since since then has worked in full and part time roles across many editorial departments. She is a freelance journalist based in London and works for a range of titles from Condé Nast Traveller to The Telegraph. She is currently working on a book about Scandinavian sauna culture and is renovating a mid century house in the Italian Lakes.