Precious spirit: ten years of Ann Demeulemeester's darkly poetic jewellery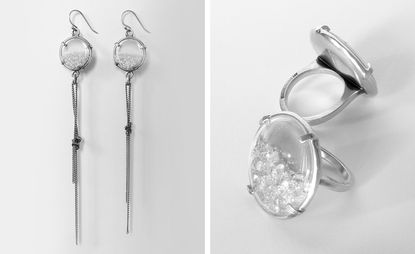 (Image credit: Wouter Van Vaerenbergh)
In Ann Demeulemeester's visual language, feathers figure heavily as symbols of freedom, humbleness and poetry. The free-spirited Belgian designer uses them often as keepsakes at her shows, but also in her jewellery.

Demeulemeester introduced jewellery to her brand offering in 2006. She chooses to work with dove and pheasant feathers, sometimes bare, sometimes dipped in silver or paint, hanging from silver chains or enclosed in medallions and vials, which she has also filled with sterling silver drops, feather quills, loose diamond pearls and precious stones.
A Belgian art and design gallery in Ghent, Casa Argentaurum, looks back on the ten years of jewellery creation that have complemented and defined Demeulmeester's quietly rebellious and darkly poetic aesthetic.

Caroline Dewolf, the founder of Casa Argentaurum who also (co-)curates most exhibitions there, is a longtime admirer of Demeulemeester's 'fashion design and of the ideas underpinning her jewellery', she says. Dewolf feels especially drawn to 'the purity Ann can obtain from silver, the lack of shine'.
Each jewellery collection by Demeulemeester contains elements from the previous one. 'That signifies evolution to me,' says Dewolf. 'She takes the beautiful and the good she has learned from the past, and continues to work on that foundation.' Though Demeulemeester was not personally involved in the exhibition, her long-standing team joined Dewolf in this project. Anne Chapelle, CEO of BVBA 32, the company behind Atelier Ann Demeulemeester and who has worked with the designer since 1994, takes a surprisingly sustainable commercial approach to the industry she champions.

'A collection of jewellery isn't an absolute necessity,' she states. 'It is an extension decorating the body and highlighting the personality of the one wearing the jewels. It finishes a silhouette.' Demeulemeester's additions of feathers and diamond dust to her often chunky pieces is only one aspect of that philosophy. The jewels, Chapelle states, are made 'to make people dream, rather than to make them glitter'.
INFORMATION
For more information, visit Ann Demeulemeester's website and the Casa Argentaurum website
ADDRESS
Casa Argentaurum
Brabantdam 68
B-9000 Gent